RIM unveils BlackBerry 10 Dev Alpha device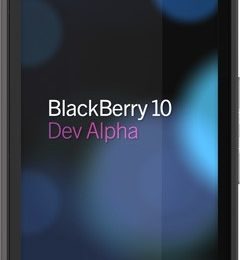 RIM has just taken the lid off its BlackBerry 10 dev alpha kit. What you're looking at is essentially a miniature PlayBook, with a similar design and GUI. RIM hasn't detailed the internals of the device, but some basic specs are known: the device has a 4.2-inch screen with a 1280x768 resolution, 16GB of storage, and 1GB of RAM. The dev alpha is also said to have a mini HDMI port, a microSD card slot, 3.5mm headphone jack, and three stage volume rocker.
Reports coming in about the device so far are positive, with particular praise being showered over the screen. It's not clear right now what tech RIM is using for the dev device, but color reproduction and viewing angles are said to be excellent. A quad-band HSPA+ radio is also on board, as is a microSIM card tray.
RIM was adamant that this isn't the final hardware or software that consumers will see when BlackBerry 10 does launch towards the end of the year. The device is designed mainly to give developers a chance to experiment and get up to speed with the new Cascade framework for BB10. Right now, the OS does have some BB10 elements, but it's still very much the PlayBook OS that we've seen before.
Developers will begin building apps for the device now so that they're ready to run on final hardware when it is available. As such, it is fairly barebones: the camera, browser, and PlayBook setup/settings are all that developers have access too. As for the missing physical keyboard? RIM say it's not ready to give up on it quite yet, but it is placing an emphasis on an all touch experience for BB10.