RIM Releases New Facebook Beta Version 2.0 For BlackBerry

RIM today launched a 2.0 beta version of their Facebook for BlackBerry app that's available for download via the BlackBerry Beta Zone. This new release has a revamped interface and incorporates many new features including an improved news feed, new navigation controls, and support for Facebook Chat.
The improved interface includes easier scrolling through your News Feed without accidentally clicking 'Like' or 'More'. You can also now post photos, add an update, or check in to a Facebook Place directly from your News Feed. A drop-down navigation area has replaced the original static navigation bar to allow for more features. A new notifications bar has also been introduced that's modeled after the BlackBerry 6 OS 'Today View.' Lastly, the Profile interface has been completely revamped into a tabbed layout that allows for viewing of more profile details.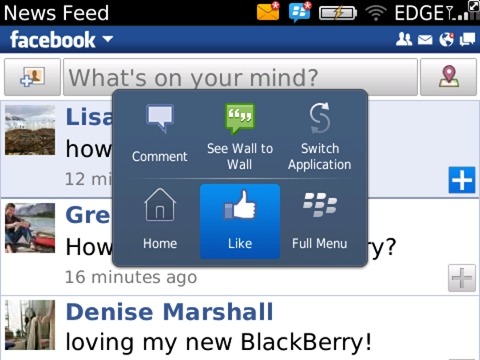 An outline of the improvements as listed from the BlackBerry blog:
· "Always On" Facebook Chat Notifications
· Redesigned Navigation Grid
· New Notifications Bar
· Improved News Feed Scrolling
· Enhanced Profiles
· Added Publisher Functionality
· Updated User Interface
This initial beta release is available only for BlackBerry 6 users. Support for users of BlackBerry 4.6 and higher will be added later. If you are a BlackBerry 6 user, definitely check out the new beta, it seems to be a huge improvement from version 1.0, which was released over three years ago.