RIM QNX Car 2 shown off at CES in Porsche Concept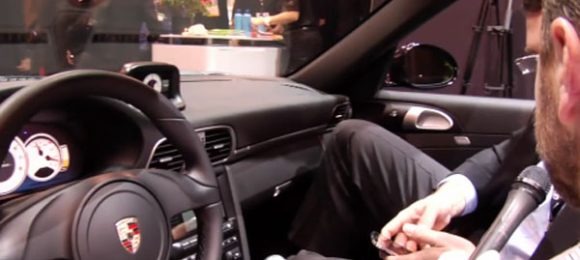 RIM was at CES showing off its slick QNX system for in-car tech in the latest version. The new version is QNX Car 2, and it has some cool features to check out. The system was being shown off at CES inside what appears to be a Porsche 911. One of the features RIM talks up is the instant pairing using NFC tech with standard Blackberry smartphones.
That is cool, but most of us aren't using Blackberry devices anymore. One of the most key features of the system is that it supports the HTML5 framework for nice visuals. The screen in the center console of the car has a layout that is said to look like the Blackberry Playbook. I would assume the screens and NFC tech would be customizable by automakers that adopt the new system. Since this was a RIM demo, they obviously wanted the screen to promote their products. The screens in the headrests were Playbooks.
The system supports high-quality audio for music and phone calls. With full duplex stereo and spatial recognitions with dual 48KHz channels for different voices and surround sound, style audio. The coolest part of the system is the reconfigurable instrument cluster. As a guy who likes to road race cars, that dash is very appealing to me. I love the screen with a single large tach in the center and the outline of what appears to be the Nurburgring in Germany on the left to show car position. That cluster is part of the QNX bag of tricks. Check out the video below to see the demo for yourself.
[via InformationWeek]