RIM: PlayBook BlackBerry 10 update locked in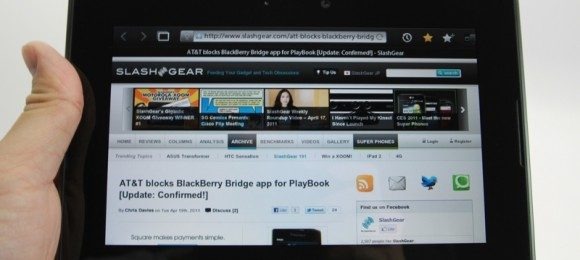 The BlackBerry PlayBook recently saw an update to the OS, hitting version 2.0. It finally added the crucial native email application, as well as Android app support. But what does the future hold for RIM's lacklustre tablet? Will the PlayBook see future updates despite the generally poor reception it has received? According to RIM, yes, going so far to say that BlackBerry OS 10 will be coming to the PlayBook when it's ready.
BlackBerry 10 will be based upon QNX, which the PlayBook already runs, but RIM are hoping to modify the OS to support their future smartphones, as well as making it competitive with other mobile operating systems. Speaking to TechRadar, Rob Orr, Vice President of product management said:
We've said publicly a number of times that our first BB10 handset will be available towards the end of 2012, and that's still firmly the case. At some point after the launch we'll bring BB10 to our PlayBooks, yes.
As for PlayBook OS 2.0, RIM said the install rate for the new update was very high. On day one, around 50% of users installed 2.0. Orr went on to say that that's the opposite of a typical BlackBerry smartphone update, saying that users "are a little bit tentative to take software updates."
There's no word on exactly when the PlayBook will see BlackBerry 10, or any indication of any new PlayBook hardware either. RIM are expected to ship BlackBerry 10 smartphones in the later part of the year.
[via Engadget]