RIM launch BBM app plugins, in-app Ads & payments and WebWorks dev tool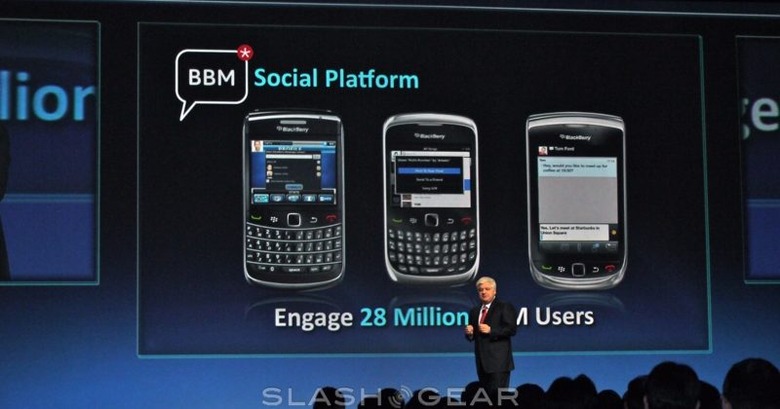 It's day one of RIM's DevCon 2010 event, and while the company hasn't announced a BlackTab tablet – at least so far – they've perhaps done something more important for the long-term success of the platform. The key unveils this year is the new version of BlackBerry Messenger – complete with support for third-party plug-ins – the introduction of commercial services for apps, such as in-app payments and custom ads, and the BlackBerry WebWorks platform, a web-based app creation tool
According to RIM, there are currently 28 million BlackBerry Messenger users and that number is growing at a rate of 1.5m every month across both social and business applications. Right now users can share photos, flag up what music they're listening to and do other basic P2P functions; what RIM is now opening up is a suite of APIs and services that will allow third party developers to tie in their own apps as well.
Not only will software be able to share content via BBM, they'll be able to register as plugins to the BBM service: for instance, you could open a contact in Messenger and then, with a single click, open up that user's profile in a third-party app. RIM also see it playing an important role in gaming, for instance allowing users to invite their friends to multiplayer titles, and then using BBM as a P2P platform for gaming sessions themselves.
Meanwhile there's a greater emphasis on commercialization and monetization, with the next step in the 18 month old App World being a push into adverts. RIM says there are over 35m users of App World today, downloading around 1.5m titles each day; they're pushing to extend carrier billing – which was added for AT&T subscribers last month – and expect more US carriers to allow BlackBerry users to charge apps to their cellphone bill by the end of the year. That will spread to international carriers through 2011.
The new BlackBerry advertising service is, RIM say, based around a few key fundamentals: that it is simple to use, open, flexible, global and inclusive of the entire advertising ecosystem. On the developer side it's relatively straightforward to implement, requiring just three lines of code in a Java or web-based application to hook into RIM's new API and pull in ad inventory. That's because the clever parts happen on RIM's servers: the company has developed a mediation platform that aggregates dozens of ad networks worldwide, allowing them to submit their commercial content and then matching it with suitable apps.
Carriers can choose their preferred ad networks and plug in their own choices, and developers are free to either leave it entirely up to RIM as to which networks are used, or can be as specific as they want: down to choosing which network, which ads and even which times they run at. RIM will initially launch with five networks onboard – both US-centric and international – and expect location-based and video-based advertising to be introduced within the next few months.
For the user, the adverts will be completely tied into the app experience. For instance, they'll support click-to-call, mapping, and video playback, and tie into the BlackBerry's email, calendar and address book allowing them to start new messages or appointments directly from the advert itself. Developers will get 60-percent of ad revenues.
Finally, there's the new BlackBerry Payment Service, supporting in-app payments for upgrades, unlocking trial apps, opening premium content and buying virtual currencies or credits. The SDK for in-app payments will be released on the BlackBerry developer site today, and the service itself will go live by the end of 2010.
It's all part of RIM's push to better engage with the developer community; they're waiving all vendor fees for App World, both for new users and for existing developers either updating their current titles or adding new ones. They're also making it easier to monitor app usage, with a new, free BlackBerry Analytics service powered by WebTrends. Implemented with a few lines of code, the new Analytics SDK can pull out when, where and how the app is being used, how the user discovered it, and which features are most and least popular.
It'll come into its own with BlackBerry WebWorks, RIM's new web-app platform that creates web-based software with HTML5, Javascript and CSS that has the same potential functionality and integration as native apps. With WebWorks, developers can create titles that tie into the BlackBerry calendar, address book and push-technology, together with using the same in-app payment, analytics and advertising as local software. Available for developers to use today, WebWorks will also be made open-source, and RIM is working with industry partners around Javascript frameworks to promote the platform's use with other developer groups.
While PC users have been well served with RIM development tools in the past, the experience for Mac-based developers has been less impressive. That should change with the new Eclipse plugin for Java developer on OS X, released as a technical preview today and then as a beta in a month, and which has all the features of the current Eclipse plugin. The Canadian company is hoping that the plugin will remove barriers for Mac developers who might otherwise opt to create titles for Apple's iOS.
RIM hasn't forgotten its broad enterprise user-base either, with the new BlackBerry enterprise app middleware that aims to make distributing software to a large number of company users more straightforward. It automates packaging of apps on both the server and the handset ends, together with better managing app security.
Not the iPad-challenging tablet hardware announcements we may have been hoping for, but perhaps of more interest to the developer crowd attending DevCon 2010. Still, there's plenty of opportunity for a BlackTab tease during the keynote which is just underway now.