Rigiet Handheld Stabilizer Review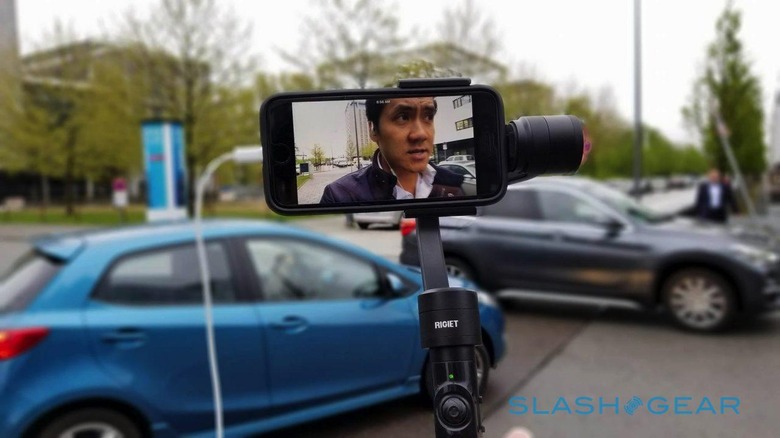 Smartphone cameras have become much more than just tools of last resort. But, try as they might, there are still things they will not be able to do well because of the constraints of space and physics. Low-light performance is one, stabilization is another. While even a little OIS helps, you'll inevitably need some outside help. That is where Rigiet comes in. Dubbed as the most advanced stabilizer for phones and GoPros, this portable gimbal is an extension of your own hand and arm, moving, bending, and holding steady in ways your own biological limbs cannot.
Design
Smartphone photographers will probably be familiar with the design of handheld stabilizers. Those who haven't seen one before should probably get used to it. This is the future of mobile photography. Although more conspicuous than a seflie stick, the Rigiet has so much more to offer than you common monopod. It is basically a short stick with an embedded control panel and two arms with three "joints" that both move your phone in every way you want it to while also keeping it steady when you need it to.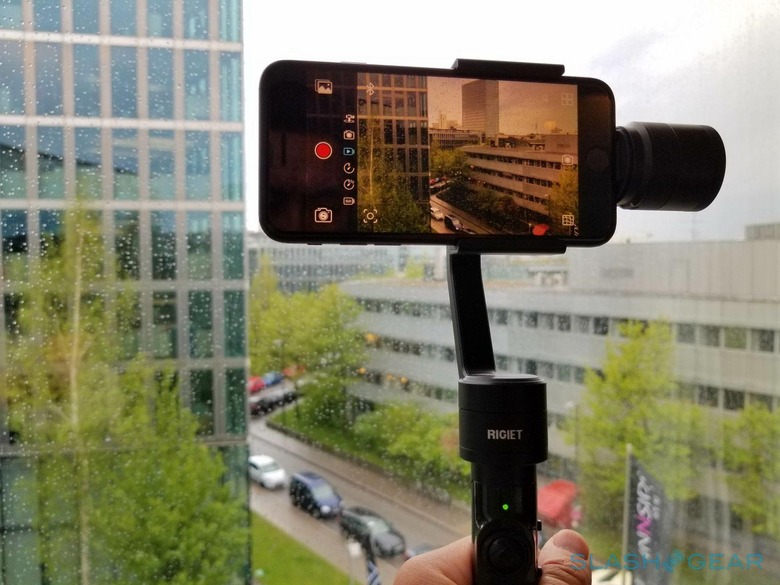 The design is meant to be portable and compact but, make no mistake, this is no flimsy stick. The build is solid and quite rugged, ready to be your photography and film-making partner whenever and wherever. That said, it does come at some cost. Weighing at 430 g, it is nearly thrice the weight of an iPhone 7 Plus. And, of course, you have to factor in the weight of the phone itself. It's not going to break your arm but you will feel some stress after prolonged use.
Good thing, then, that Rigiet is compatible with your run of the mill tripods. While its features do shine brightest when held by unsteady hands, the stabilizer is no less talented when set atop a conventional mount. In this setup, Rigiet's panorama features work their magic best.
Rigiet is designed with smartphones in mind and its holder firmly clamps onto the sides of a phone. That said, it also supports GoPro cameras, for those who prefer more action-oriented footage. This does require an additional mount that doesn't come for free.
Features
The Rigiet's design might be ordinary, even forgettable, but its features most certainly aren't. Let's start with the basics. Like any gimbal, it features 3-axis stabilization on tilt, roll, and pan. These not only serve to reduce shaky cam effects but to also keep your phone or GoPro in the same position even when you have to turn your arm this or that way. It has a built-in 2,600 battery but that will only last you an advertised 3 hours. And that's under ideal situation. Those alone probably won't make the Rigiet even worth writing about. Of course, it has a lot more.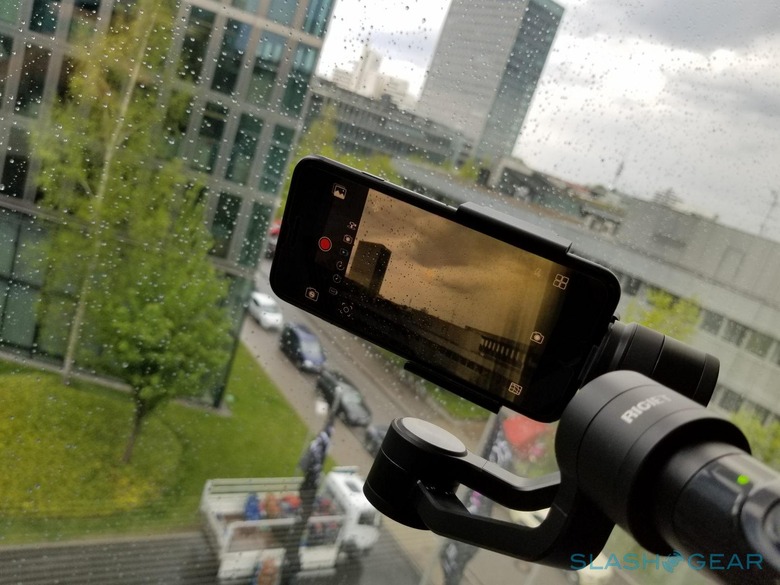 Rigiet boasts of being the only phone stabilizer that supports an underslung position, without having to rotate the phone at all. This means your hand can quickly switch from a normal position under the phone to a position above the phone. The phone itself stays perfectly still.
To resolve the battery problem, Rigiet features what is probably a misnamed "two-way charging" mode. In normal mode, you can charge the phone attached to the stabilizer. In two-way mode, you can charge the phone via Rigiet while Rigiet itself also gets charged. And you can even use the same power bank to do that.
While a stabilizer's primary function is to keep a camera steady, there are times when you do want and need it to move. Without all the extraneous motion coming from your shaky hands, of course. The Rigiet has two features perfect for that use case. One is an auto-tracking function usually found only on high-end DSLRs and rigs. In the Rigiet camera app, you simply choose your intended subject and Rigiet will follow it wherever it goes.
No stabilizer will be complete without a panorama function that will stop you from twisting your body or your ankle. But instead of an ordinary pano, Rigiet offers three. One is a regular 180-degree shot while another is a nearly complete 330-degree panorma. Unique to Rigiet, however, is a super wide-angle shot that stitches together 12 shots to make sure no one is left out.
Peformance
These sound swell, but does reality match up to the expectation that Rigiet sets? In our time with the handheld stabilizer, that would be one big "yes!". Despite its solid construction, the Rigiet is by no means stiff or rigid. Its movement, especially with auto-tracking, is smooth, fast, and precise. And when you don't want it to move on its own, you can manual position the gimbal the way you see fit and it will stay that way. Rigiet has a mind of its own, but it also knows when to follow orders.
And speaking of auto-tracking, the Rigiet performs superbly well in this important feature. Setting it up is as easy as selecting a box, dragging, and dropping it onto your intended target. From there, Rigiet takes over, employing all the stabilization and movement features it has to always keep the target in view.
The one chink in Rigiet's armor is device compatibility. In theory, it works with any smartphone up to a an iPhone 7 Plus in size. The stabilization features work great even with, say, a Samsung Galaxy S8.
In practice, however, its full suite of features only work with iPhones. The camera app which allows it to auto-track targets, create breathtaking panorama shots, or cook up slo-mo or time lapse videos is only available for iOS.
Wrap-up
Lightweight and portable design, 3-axis stabilization, "two-way" charging, underslung orientation, auto-tracking function, and 12-pic wide-angle panorama, just to name a few. With that much features, you have the makings of a professional stabilizer and camera rig, but one that can fit in your bag. And, more often than not, such equipment have cost too high to pay. This is one of those instances when you'd be glad to be wrong.
Granted, Rigiet isn't something you can buy off the shelf just yet. It has just sprung up on Kickstarter with a very modest funding goal and equally modest tiers. If you're quick enough, you can get a Super Early Bird basic Rigiet for just $129, $139 if you want to grab the GoPro bundle. Once those slots are gone, it won't be too big a jump to a $149 Kickstarter price. And once the Kickstarter is all over, Rigiet will sell for $189. Considering its nearest competitor's price is twice that much, it is definitely a steal.
Like any crowdfunded project, Rigiet needs to muster up enough interest, especially financial, to make this dream a reality for smartphone photographers. If all goes well, those believers will get their rewards in June. Considering how low the numbers are, this is one that will most likely blast off to the skies. After all, what smartphone photographer wouldn't want a mechanical arm that is more agile, more flexible, and yet also more stable than his or her own arm.