Ricoh GR II camera (allegedly) appears in leaked pic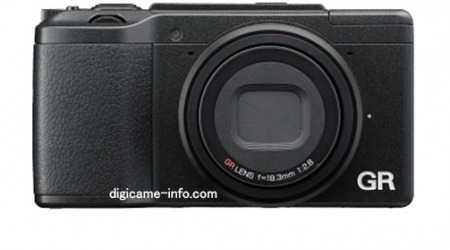 The next version of the Ricoh GR camera, the aptly named Ricoh GR II, has surfaced ahead of its official launch. An alleged picture of the camera has surfaced in a leak, and if it is the real deal it seems the maker will be offering a second model that looks very similar the first iteration (though there are some subtle differences). It is a PR image, and so assuming it is real, its existence likely points towards a nearing official announcement.
The camera image surfaced via Japanese website Digicame-info, where we've seen leaks in the past that ended up proving true. The hot shoe is the primary difference, at least as far as we can see in from the front. The lens is the same, and it is expected it'll bring with it the same sensor as the original model.
The original Ricoh GR has a 16-megapixel APS-C CMOS sensor, the benefits of which are low noise levels and a high resolution. It uses the maker's GR Engine V photo engine, and includes a fixed wide-angle lens, the ability to shoot in RAW, a variety of auto focus technologies, and more.
The upcoming version will likely contain the same sort of features with updated hardware and improved functionality. There's no hint of what the camera might offer, though, and we don't yet know when the model will be launching. Check out the timeline below for more!
VIA: PhotoRumors