Review: Lenovo ThinkPad X1 Tablet (3rd-gen)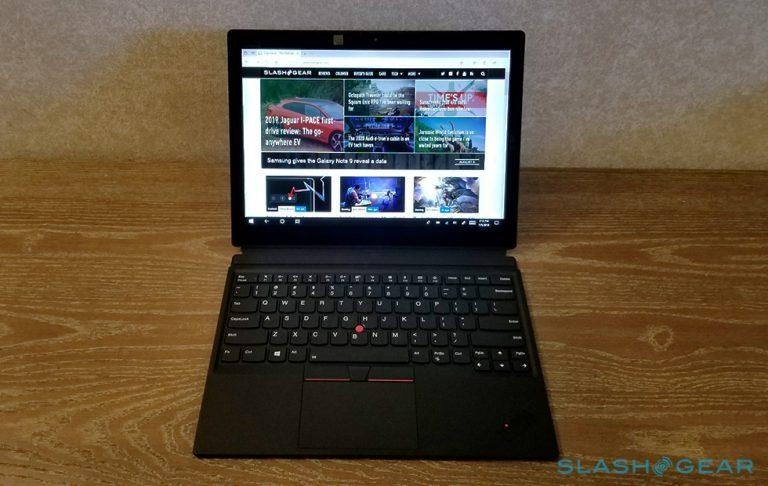 EDITORS' RATING: 9/10
Looking for something like the X1 Carbon ultrabook but in tablet form? That's where Lenovo's slim ThinkPad X1 Tablet comes in. The model is now in its third generation, bringing the same ThinkPad aesthetic of past models in refreshed form. There was a lot to like about the second-generation model; despite that, the latest installment in the series beats it, adding improvements and enhancements that make this tablet a great choice for anyone.
The ThinkPad X1 Tablet is a 2-in-1 alternative to the X1 Carbon and X1 Yoga laptops. Unlike those models, the X1 Tablet can be used by itself as a slate or attached to a slim keyboard for a more traditional laptop experience. A built-in kickstand enables users to prop the tablet on a flat surface. The 3rd-generation model has a redesigned kickstand with two angles ideal for typing.
The tablet sans keyboard measures 0.35in / 8.9mm thick; it sports the black matte finish found on other ThinkPad products, including the new X1 Carbon ultrabook. The kickstand is visible via two flat hinges and a line splitting the rear of the tablet horizontally. When popped open, the kickstand feels durable and accommodates multiple angles. Both traditional "ThinkPad" and X1 logos are found on the tablet's backside.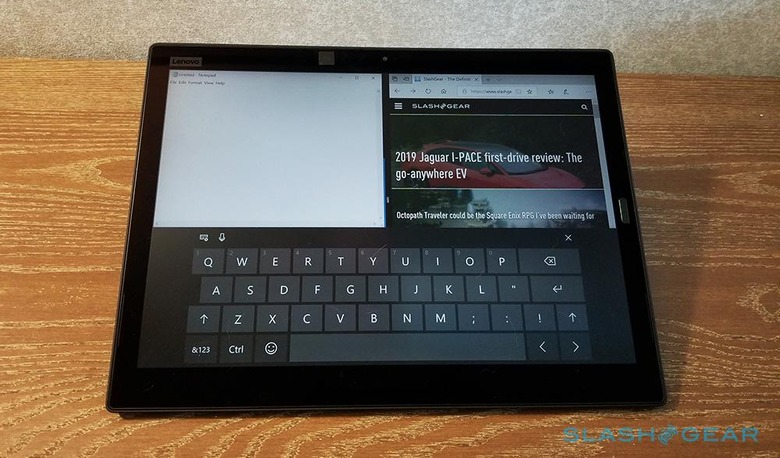 The detachable keyboard, which is removable with a simple tug, sports a more traditional ThinkPad appearance, including the red TrackPoint in the middle of the keyboard and red trim on the trackpad buttons. The ThinkPad Pro Pen stylus joins both to enable drawing and writing.
The tablet's edges feature the device's various ports (listed below), as well as a recessed power button that'll reduce accidental presses, the volume rocker, and indentations on both sides for opening the kickstand. Despite the device's slim size, Lenovo says the X1 Tablet is highly durable, including Gorilla Glass for the display. The company says it subjected the tablet to more than 200 quality checks across a dozen different military-grade requirements, finding the device suitable for "extreme environments."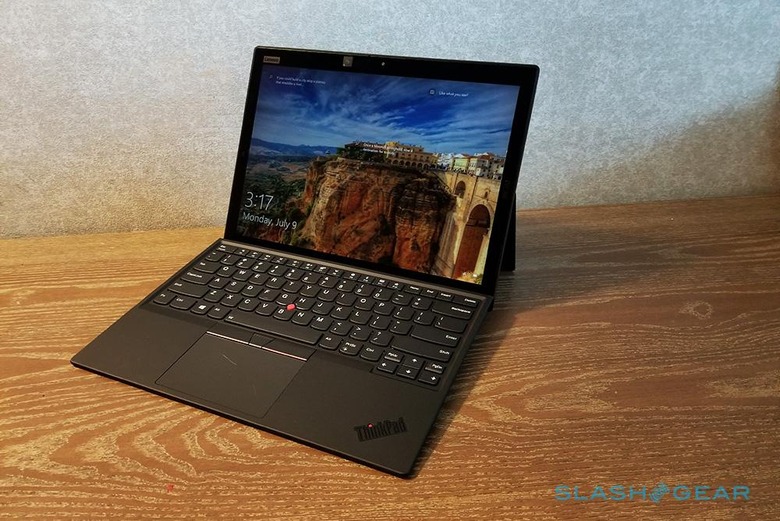 The 3rd-gen ThinkPad X1 Tablet has received a security upgrade versus the previous models, adding FIDO authentication in addition to the fingerprint scanner and IR Camera + Windows Hello combination. In addition, the latest model features a Trusted Platform Module (TPM) for encrypting user data. Other notable features include the option for LTE-A connectivity, providing wireless access when away from a WiFi network, as well as Intelligent Cooling, Modern Standby, and the inclusion of Thunderbolt 3.
TECH SPECS:

Processor: Up to 8th Generation Intel® Core™ i7-8650U with vPro® (1.90GHz, up to 4.20GHz with Turbo Boost, 8MB Cache)

Operating System:

- Windows 10 Home – Lenovo recommends Windows 10 Pro

- Windows 10 Pro

Graphics: Integrated Intel® UHD Graphics 620

Memory: Up to 16GB

Storage: Up to 1TB PCIe SSD OPAL2.0

Camera:

- Front: 2MP

- Rear: 8MP

- Optional: Rear IR camera – required for facial recognition.

Battery: Up to 9.5 hours, integrated Li-ion 42 Whr

Display: 13.0" QHD+ 3K (3000 x 2000) IPS multi-touch

Audio:

- Dolby Audio Premium

- Noise-cancelling dual-array far-field microphones

Security:

- Fast Identity Online (FIDO) certification

- dTPM 2.0

- Touch Fingerprint Reader

- IR camera for facial recognition software

- Kensington lock slot

Color: Black

I/O Ports:

- 2 x USB 3.1 Gen 2 Type-C / Intel Thunderbolt 3 (Power Delivery, DisplayPort, Data transfer)

- 4-in-1 MicroSD card reader

- Headphone / microphone combo jack

- Nano Sim slot

Connectivity:

- WLAN: Intel Dual Band 8265 Wireless AC (2 x 2) + Up to Bluetooth® 4.1 with vPro

- NFC (not available with IR camera)

- WWAN: Integrated Global Mobile Broadband LTE-A (optional)

Dimensions:

- Tablet: 11.96" x 8.88" x 0.35"

- Tablet & Keyboard: 11.96" x 8.88" x 0.59"

Weight:

- Tablet: Starting at 1.69lbs

- Tablet with keyboard: Starting at 2.79lbs
Unlike some 2-in-1 detachable keyboards, which feel flimsy or cheap, the X1 Tablet's detachable keyboard is stiff and feels indistinguishable from using a ThinkPad laptop. Trackpad and TrackPoint performance are excellent; the keys are spaced nicely and akin to what you get from any 13" laptop.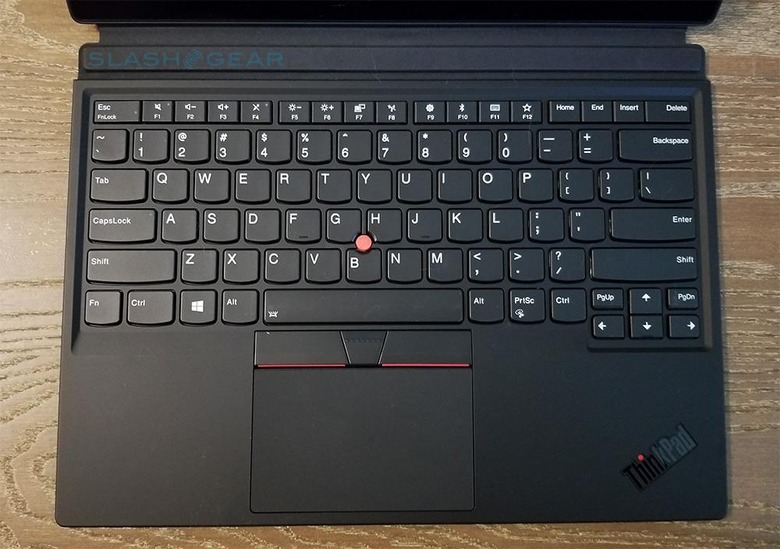 The X1 Tablet's battery life, though not blowing the competition away, is decent at 8 – 9 hours, depending on how you're using it. It's enough to get someone through a full work day if you're conservative with usage, which means keeping the brightness down a bit and similar actions. If you max the brightness and stream videos during the day, you'll likely have to plug in before the work day ends, and that's something to keep in mind if you travel frequently.
Battery aside, performance depends on configuration, of which there are multiple options. Our review unit features 8th-gen Intel Core i7-8650U processor and 16GB of memory. Performance is snappy and without issues. Multitasking, including streaming videos and music, editing images, keeping 12+ browser tabs open, and running multiple applications presented no issues.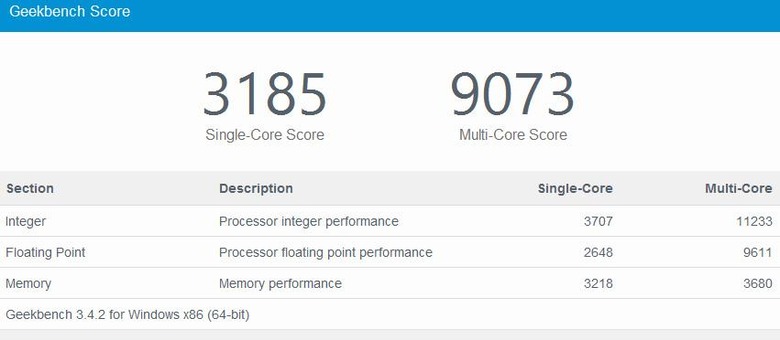 Stylus performance is similarly great, though I found the lack of friction made it difficult to handwrite; this in comparison to the Apple Pencil. That's not to say you can't take handwritten notes, but the experience lends itself more toward signing digital documents, annotating reports, and similar things, rather than long-form handwriting.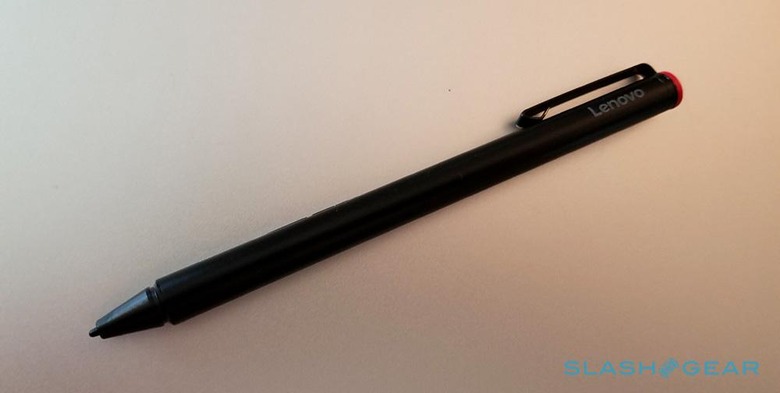 Wrap-up
The 3rd-generation X1 Tablet is a great addition to the X1 product family, adding more powerful hardware, additional security, a better display, redesigned kickstand, and more. There's nothing in particular to dislike about this model, lackluster battery life aside, but multiple aspects to appreciate, making it a solid choice for someone in need of a business-tier 2-in-1 tablet + detachable keyboard system.
Available from Lenovo now starting at $1269 USD.