Review: Lenovo ThinkPad X1 Extreme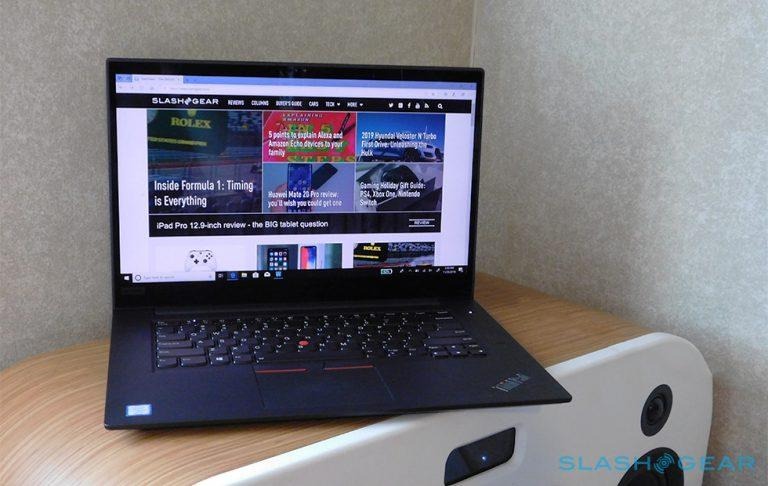 Lenovo is back with another X-series laptop, the ThinkPad X1 Extreme. This model joins the X1 Carbon and X1 Yoga, bringing the same general design aesthetic alongside the promise of handling demanding computing tasks "without a hitch." The Extreme model is designed for users with extreme needs — both in terms of portability and performance. How well does it meet those needs?
Hardware
The ThinkPad X1 Extreme is impressively small and light for a workstation, giving it an immediate appeal over its clunky, heavy competitors. The laptop sports Lenovo's no-nonsense ThinkPad business design, including a light black color and embossed ThinkPad logo on the lid. Both the lid and inner palm rest are soft to the touch.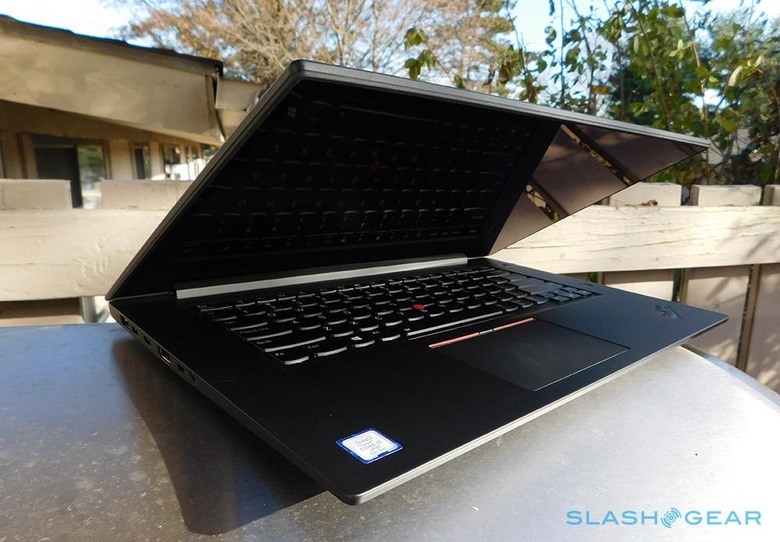 The Extreme's keyboard sports the expected ThinkPad design; it has retained the red TrackPoint "nub" and prominent three-button trackpad, and the keys are both broad and round. The end result is a very comfortable, quiet keyboard that can easily accommodate large hands.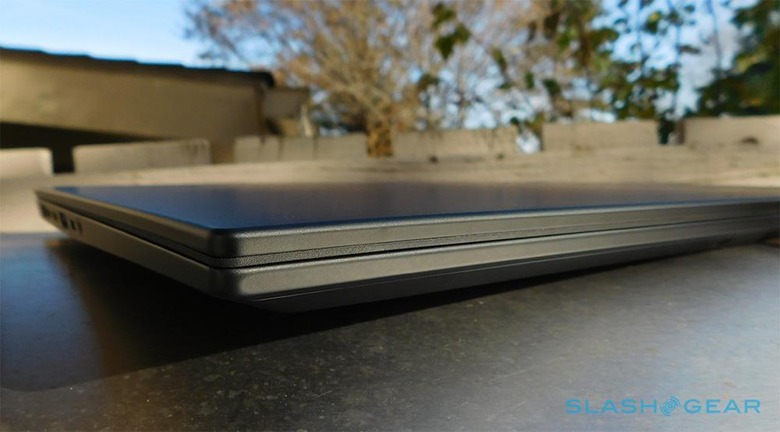 The Extreme features a gorgeous 15.6-inch display available in Full HD and 4K touch (our unit). Buyers who need the best display possible should go with the 4K option, which supports Dolby Vision HDR and a 100-percent color gamut alongside better contrast, brightness, and detail.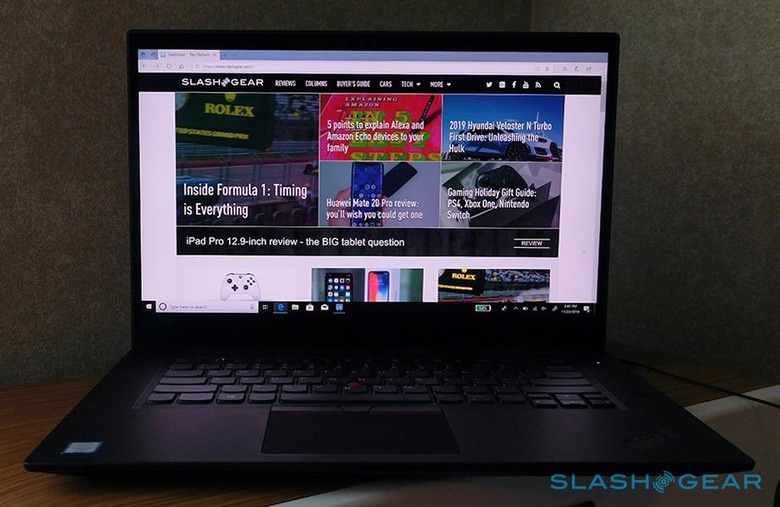 Other design elements of note include thin bezels around the display, as well as a tendency to pick up fingerprints that don't easily buff out. The power button is circular and prominently displayed on the palm rest's right edge; a few inches below it lies a small square fingerprint reader. Joining that fingerprint reader is an optional IR camera for Windows Hello and a privacy slider on the webcam.
TECH SPECS
Processor: Up to 8th Generation Intel Core i7-8850H 6 Core Processor with vPro (2.60GHz, up to 4.30GHz with Turbo Boost Technology, 9MB Cache)Operating System:

- Windows 10 Home

- Windows 10 Pro – Lenovo recommends Windows 10 Pro

Display:

- 15.6" FHD (1920 x 1080) IPS anti-glare, 300nits, 72% color gamut

- 15.6" 4K UHD HDR (3840 x 2160) IPS multi-touch, anti-reflective / anti-smudge, 400 nits, 100% Adobe 8+2 color depth with Dolby Vision

- Supports up to 4 independent monitors

Graphics: NVIDIA GeForce GTX 1050 Ti 4 GBMemory: Up to 64 GB DDR4 2666 MHz, Dual DIMMStorage: Up to 1 TB PCIe SSDBattery: Up to 15hr, 4 cell, 80 Wh, with Rapid Charge technologyConnectivity:

- Intel Dual Band 9560 Wireless AC (2 x 2) with vPro™ + Bluetooth® 5.0

- Intel Dual Band 9560 Wireless AC (2 x 2) + Bluetooth® 5.0

Camera:

- 720p HD with ThinkShutter privacy cover

- Infrared (IR) Camera (optional; required for use with Windows Hello & doesn't include ThinkShutter)

Security

- Fast Online Identity (FIDO) authentication capabilities

- dTPM 2.0

- Match-on-Chip touch fingerprint reader

- Windows Hello with facial recognition software (requires IR camera)

- ThinkShutter on 720p HD Camera

- Smart Card Reader (Optional)

- Kensington® lock slot

Audio:

- Dolby Audio™ Premium

- Dolby Atmos® for headset*

- Noise-cancelling dual-array far field microphones

Weight starting at:

- FHD non-touch: Starting at 3.76 lbs (1.7 kg)

- 4K Touchscreen: Starting at 4.06 lbs (1.8 kg)

Dimensions (W x D x H)

FHD non-touch: 14.24" x 9.67" x .72" / 361.8 x 245.7 x 18.4 (mm)

4K Touchscreen: 14.24" x 9.67" x .74" / 361.8 x 245.7 x 18.7 (mm)

Keyboard:

- Spill resistant

- Multitouch glass touchpad

- Backlit with white LED lighting

Ports:

- 2 x USB 3.1 (Gen 1, 1 always on)

- 2 x USB-C Thunderbolt™ 3

- 4-in-1 SD card reader

- HDMI 2.0

- Network extension

- Combo audio / mic

AC Adapter: 135WSupported Docking: ThinkPad Thunderbolt Workstation Dock
Software & Performance
Lenovo offers the ThinkPad X1 Extreme with both Windows 10 Home and Windows 10 Pro options. Performance is great across all categories; the system responds rapidly to everything from starting applications to tabbing through browser windows and streaming content. Heavy use, such as batch resizing and watermarking images or editing a video, results in the fan kicking on and, soon enough, the bottom getting too warm to comfortably keep on one's lap.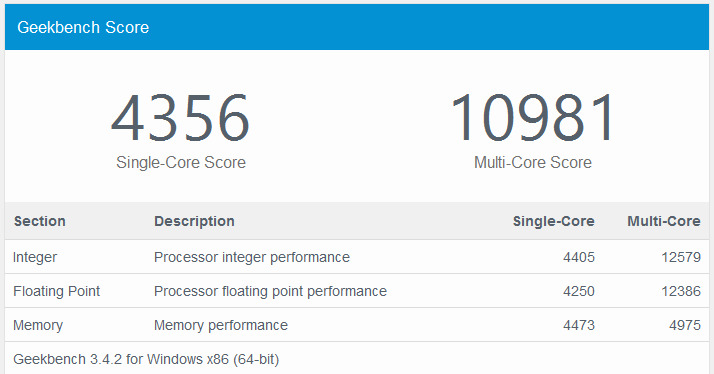 Things we like
Given the Extreme's "workstation" designation, it's no surprise that Lenovo packed in support for up to four standalone 4K monitors. This is a welcomed addition that makes it possible to use the laptop as part of an extensive desktop setup without settling for big workaround solutions.
Lenovo took this a step further and offers an optional infrared camera that features Mirametrix Glance technology. With this, the system tracks the user's face, eye, and gaze to automatically adjust application windows and cursors, improving productivity across multiple monitors.
Likewise, Lenovo didn't skimp on ports with the Extreme. Users have direct access to a pair of Thunderbolt 3 ports, as well as two USB 3.1 ports, an SD card reader, HDMI, and network extension port. An optional dock is available for users with more demanding needs, but on-the-go professionals will find the laptop's various port options are more than adequate for most needs.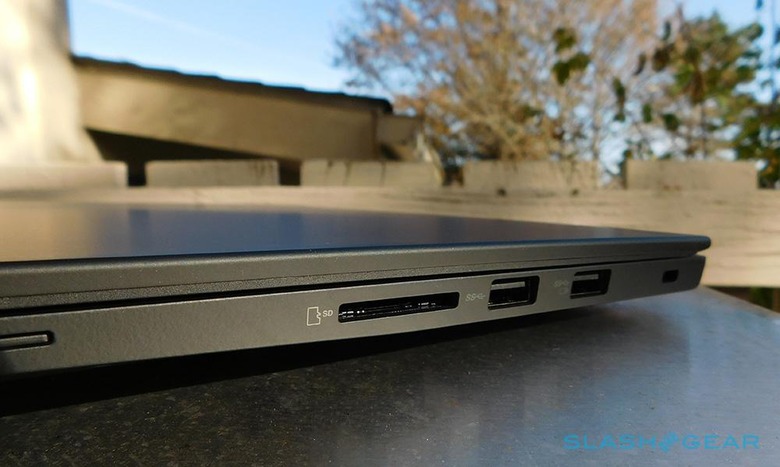 Issues
Striking a balance between performance and battery life is never easy, and workstations in particular suffer from heavy emphasis on one at the expense of the other. It wouldn't be fair to say that the 4K version of the Extreme has poor battery life, because it doesn't, but users should temper their expectations, particularly if they're maxing out the display brightness and keeping a continuously high load on the system.
Still, battery life was a bit lacking compared to some competing models, reaching several hours with brightness turned up, videos streaming, and general business multi-tasking underway. Lenovo offers a compromise in the form of rapid charging — buyers have access to Rapid Charge for getting the battery to 80% in 60 minutes.
Another potential downside is a combination of warmth and loud fan noise during heavy use.
Wrap-up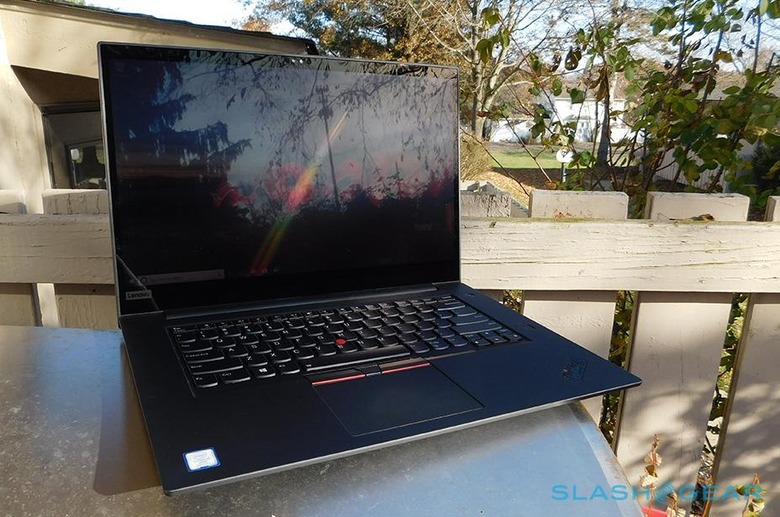 The Lenovo ThinkPad X1 Extreme is one of the most alluring mobile workstations I've used in a long time. The laptop's slim, lightweight design coupled with a stunning 4K display and high performance make this model a treat for anyone trying to get serious work done while away from the office. Battery life isn't quite as stellar as some may hope, but the system can still offer several hours on a charge and, thanks to rapid charging, topping up the battery doesn't take long at all.
Professionals looking for a very capable portable workstation have an excellent option in the ThinkPad X1 Extreme. Available from Lenovo now starting at $1,301 USD.