Review: Lenovo ThinkPad P53 workstation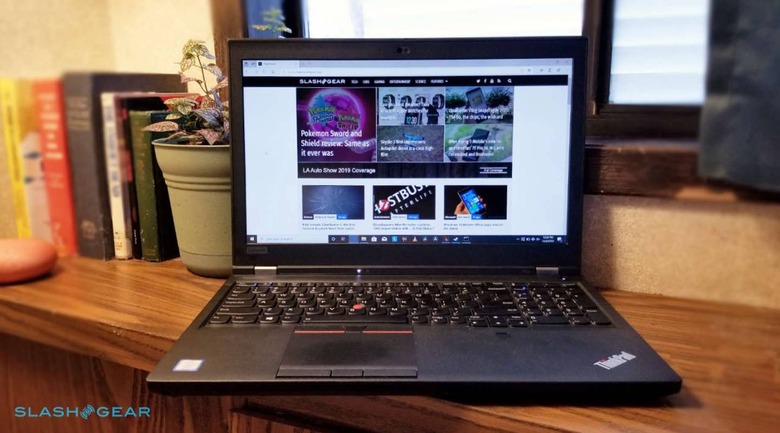 When it comes to getting serious work done, ordinary laptops aren't sufficient. Desktops can offer the most power, but the complete lack of portability makes them less than ideal for some users. That's where workstations come in. These laptops bring the performance capabilities of gaming laptops, but with the features and security considerations that professionals need. Lenovo offers a number of workstations in its P Series line, one of the latest models being the ThinkPad P53.
The ThinkPad P53's design is what we've come to expect from a ThinkPad model: minimalist, dark, with a noticeable 'THINKPAD' logo and slim red accents on the trackpad. The laptop retains the iconic TrackPoint 'nub' nestled in the keyboard, which is the same comfortable offering ThinkPad users are familiar with; the model has a numpad and a fingerprint sensor near the arrow keys.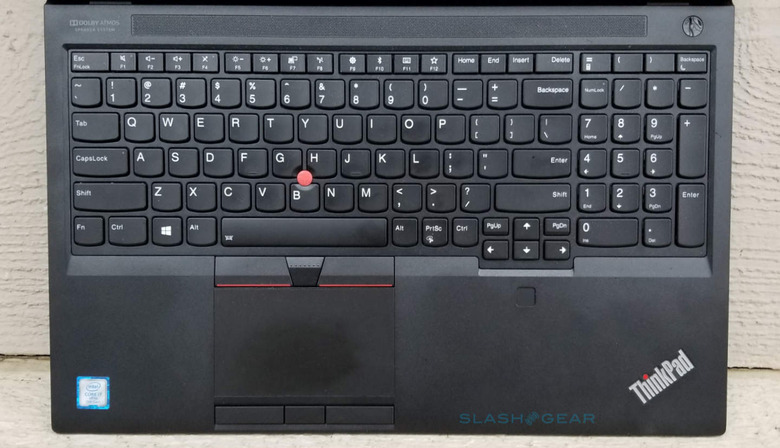 Lenovo arranged the laptop's ports logically; the ones you're not likely to use often, such as the ports for the power adapter and the Ethernet jack, are located on the rear edge. Other ports that are more likely to be used frequently, including the multiple USB ports, are located on both sides of the laptop. The bottom, sides, and rear of the machine feature air vents.
The laptop feels quite solid and distinctly like plastic when held. The only element that makes me question the machine's durability is its display — when the user presses near the bottom edge of the rear of the display, the screen flexes inward quite noticeably between the two hinges. Of course, we didn't press too hard to see how much the P53 can handle, but users would be well advised to avoid accidentally putting too much pressure on the back of the lid.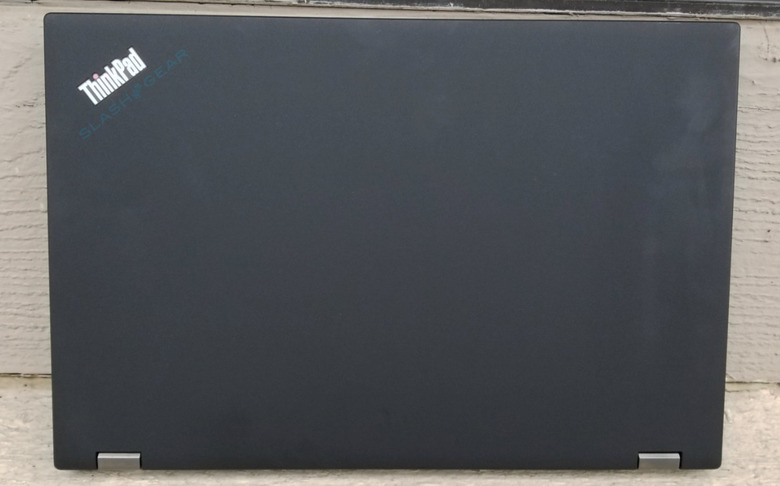 As far as the laptop's thermal aspects are concerned, Lenovo has done an excellent job of managing the laptop's ample heat when it is under heavy load. The fans kick on and can be noisy at the extreme end of things, but aren't much of an annoyance most of the time. The bottom side of the laptop can become very warm but, of course, this workstation isn't a machine that you're going to use on your lap.
As expected for a Lenovo workstation, buyers are given many configuration options for the display and other hardware. Depending on their needs, buyers can choose from a 15.6-inch Full HD IPS panel with 300 nits brightness and 72-percent color gamut all the way up to a 4K Ultra HD OLED display with Dolby Vision HDR 500 support and 100-percent DCI-P3 color gamut.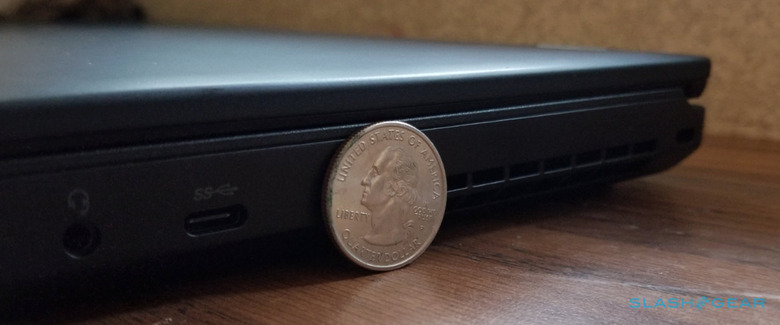 The basic FHD 300 nits panel would be perfectly suitable for someone whose work doesn't involve graphics, though the 500 nits Dolby Vision alternatives would make things brighter with better image quality for those who prefer it. The 4K panel is ideally suited for users who work in graphics professions like photographers and videographers.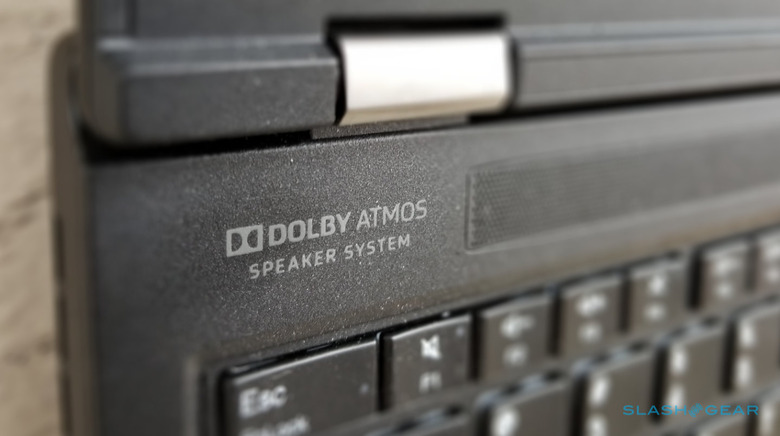 Though brighter, higher-resolution displays would ordinarily introduce concerns about reduced battery life, the P53 is a model that will spend most of its time plugged into a wall, making such considerations less than critical.
Buyers are given five NVIDIA Quadro GPU options ranging from the RTX 3000 6GB to the Quadro T2000 4GB, as well as up to 128GB of DDR4 2666MHz of RAM. As well, Lenovo offers the P53 with up to the 9th-gen Intel Core i9-9880H with vPro alongside the optional Intel Xeon E-2276M with vPro.

The ThinkPad P53 model offers ISV certification for major vendors like CATIA, AutoCAD, 3dsMax, Petrel, and others. As expected for a machine used for business, the P53 includes a number of security features, including an optional match-on-chip fingerprint sensor, dTPM for encrypting data, the ThinkShutter webcam cover, and an optional IR webcam for logging in with Windows Hello.
TECH SPECS
Processor:

- Up to 9th Generation Intel Core i9-9880H with vPro (2.30GHz, up to 4.80GHz with Turbo Boost, 8 Cores, 16MB Cache)

- Intel Xeon E-2276M with vPro (2.80GHz, up to 4.70GHz with Turbo Boost, 6 Cores, 12MB Cache)

Operating System:

- Windows 10 Home

- Windows 10 Pro

- Windows 10 Pro for Workstations (Xeon processor)**

Display:

- 15.6" UHD 4K (3840 x 2160) OLED, 350 nits, multi-touch, AR/AS with Dolby Vision HDR 500, 100% DCI-P3 Color gamut

- 15.6" UHD 4K (3840 x 2160) IPS, anti-glare, 500 nits, Dolby Vision HDR 400, 100% Color gaumut

- 15.6" FHD (1920 x 1080) IPS, anti-glare, 500 nits, Dolby Vision™ HDR 400, 72% Color gamut

- 15.6" FHD (1920 x 1080) IPS, anti-glare, 300 nits, 72% Color gamut

Memory:

- Up to 128 GB DDR4 2666 MHz

- Up to 128 GB DDR4 2666 MHz ECC (Xeon processor)

Graphics:

- NVIDIA Quadro T1000 4GB

- NVIDIA Quadro T2000 4GB

- NVIDIA Quadro RTX 3000 6GB

- NVIDIA Quadro RTX 4000 8GB

- NVIDIA Quadro RTX 5000 16GB

Battery:

- Up to 16.5 hours on 90Wh, includes Rapid Charge tech

- Up to 13 hours on a single one-hour charge

Storage:

- Up to 2 TB PCIe SSD

- Up to 2 TB 5400 RPM

- 500 GB 7200 RPM

- Up to 6 TB support

Security:

- Discrete Trusted Platform Module (dTPM) 2.0

- Fast Identity Online (FIDO) authentication capabilities

- Optional IR camera (for login with Windows Hello)

- Optional Match-on-Chip fingerprint reader

- ThinkShutter webcam privacy cover

- Optional Smart card reader

- Kensington lock slot

Audio:

- Stereo speakers with Dolby Atmos® sound system

- Dual far-field mics

Camera:

- 720p HD with ThinkShutter privacy cover

- Optional: Hybrid Infrared (IR) with ThinkShutter

Dimensions: 377.4 x 252.3 x 24.5mmWeight: Starting at 5.51lbsConnectivity:

- WLAN: Intel AX200 Wi-Fi 6 802.11AX (2 x 2) + Bluetooth 5.0

- Optional WWAN: Fibocom L850-GL 4G LTE-A cat 9

Ports/Slots:

- 2 x USB 3.1 Gen 1 (1 always on)

- 2 x USB 3.1 Gen 2 Type-C / Intel Thunderbolt 3

- 1 x USB 3.1 Gen 2 Type-C (DisplayPort, Data transfer)

- 4-in-1 media card reader (MMC, SD, SDHC, SDXC)

- HDMI 2.0

- RJ45 Ethernet

- Smart card reader (Optional)

- Audio combo jack

Keyboard:

- Spill resistant

- Precision Keyboard with numpad

- Backlit with white LEDs
Software & Performance
It goes without saying that the ThinkPad P53 is a powerful laptop. Forget simple evaluations like, "Can it handle a dozen Chrome tabs and music streaming at the same time?" This workstation comes with ample power, particularly if you max out the configuration.
Our review unit doesn't quite top out Lenovo's P53 hardware options; it has 64GB of RAM rather than the 128GB possible, the Intel Core i7-9850H processor instead of the Xeon offering, and the RTX 5000. As you can see, this configuration ranks incredibly high in 3D Mark benchmarks, putting it at the same level as 4K VR-capable gaming desktops and well above gaming laptops.

I decided to test the ThinkPad P53 with an application called Gigapixel AI from Topaz; this software can be used to process and upscale an image to a higher resolution with AI-enhanced details — it is perhaps best known as the software used by some amateurs to 'remaster' episodes from old TV shows.
Gigapixel AI is a very demanding program and it requires a high-end PC if you hope to process and upscale images to 4K resolution. Even many gaming laptops aren't sufficient for the task; when testing the software with the Lenovo Legion Y540 model, for example, it took days to upscale a single minute of footage from 480p to 4K resolution.
The same process with the ThinkPad P53, meanwhile, could be accomplished within a single day, making it possible to batch process and upscale well over 10,000 frames daily. That's quite an accomplishment for a laptop, which, it should be noted, never suffered from excessive fan noise during this process.
As far as battery life is concerned, the run time can be notable if the performance is dialed back and the laptop isn't put under much load. For ordinary office tasks like web browsing, streaming, and using productivity software, the workstation can offer several hours or more on battery, depending on the configuration. Under load, however, you shouldn't expect to spend very long away from an outlet.
Things we like
Looking for a quick rundown of the P53's best features? Here's your TL;DR:
- Professional design. The P53 features the classic ThinkPad style, offering the best of Lenovo's business aesthetic alongside the power needed to get intensive work done.
-Surprising battery life potential. Of course, any project that puts the laptop under serious load is going to deplete the battery fairly rapidly. With that said, Lenovo makes it possible to squeeze several hours out of the P53's battery by adjusting the performance settings using its Lenovo Performance Tuner.
- Multiple security features. In addition to the convenient webcam cover, the P53 features a match-on-chip fingerprint reader that isolates the fingerprint data and matching to a sensor module, offering a greater level of security compared to match-on-host implementations. As well, the P53's IR webcam can be used with Windows Hello for facial recognition.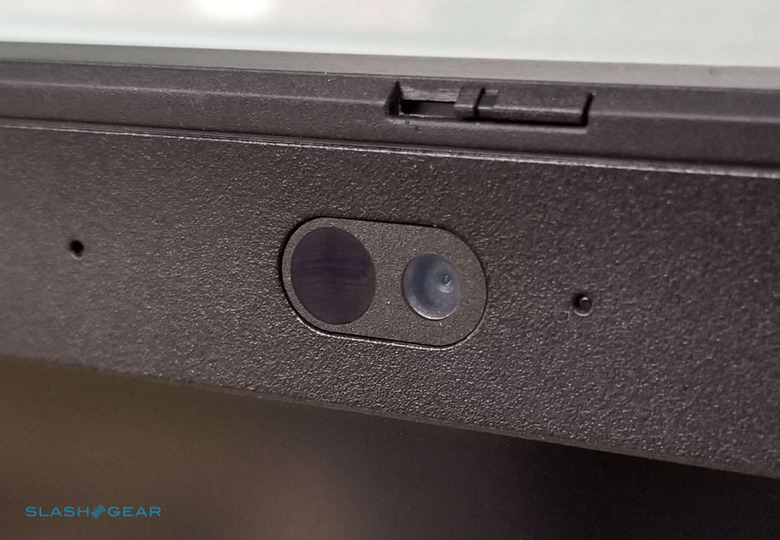 - Atypically quiet performance. Yes, you will hear the P53's fans when the system is under load, but the laptop wasn't as loud as I'd expected. Lenovo used magnesium alloy for the laptop's base to improve heat dissipation. (The lid, in case you're wondering, is made from polymer reinforced with glass fiber).
- Portable design...for a workstation. Put bluntly, this isn't a laptop that you'd want to carry around all the time. At about 5.5lbs, though, the laptop isn't terribly burdensome, making it something you could tote around to the boardroom or nearest coffee shop. Lenovo notes that the model's power supply is 35-percent smaller than before.
- Ample configuration options. Lenovo gives buyers a large number of hardware options with its P53 workstation including displays that'll match every need and workstyle. Photographers, videographers, engineers, design professionals, architects, and others have many options to choose from.
Wrap-up
The ThinkPad P53 joins a long line of Lenovo workstation laptops, offering professionals the performance they need in a surprisingly portable, though still quite beefy, form factor. This model features the classic ThinkPad design paired with a full keyboard and array of ports, extensive configuration options, up to excellent battery life (for a workstation), and vast ISV certifications.
If you're a professional in the market for a new workstation with the latest hardware and security features, the ThinkPad P53 is a solid option with a relatively low starting price of around $1,200 USD. Available now from Lenovo.