Review: Funlux Smart Wireless Mini CAM security camera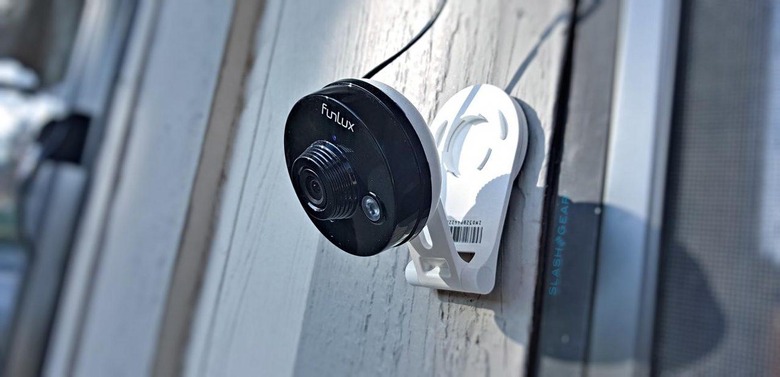 Consumer-grade home security cameras are a safety blanket, a source of reassurance while you're traveling or when the babysitter is over. Security cameras like the Nest Cam let you take a peek in or around your home even if you're not home, they keep watch while you're asleep, send notifications when you're not looking, and are an excellent way to make sure your insurance company honors a claim. They also tend to be expensive.
The Nest Cam, for example, costs $185 USD, give or take a bit depending on retailer. That's not much relative to peace of mind and video evidence, but maybe you don't have a couple hundred dollars to drop on a small camera. The market has no shortage of inexpensive security cameras, but no one would blame you for being gun-shy about them — cheap security cameras tend to be more hassle than they're worth.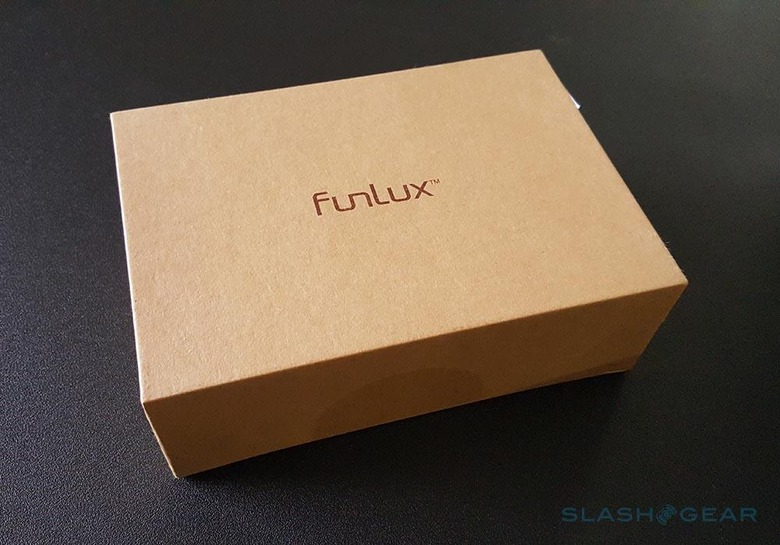 That's why I was skeptical about Funlux's 720p Mini CAM wireless home security camera, a $40 model found on Amazon with good specs on paper but a mixed bag of reviews. Truth be told, I almost went with a better known (and more expensive) camera. The fear that whomever is banging on neighborhood doors at night — the reason for the camera — may spot it and smash it, though, prodded this leap of faith. For the most part, the purchase has been a great one.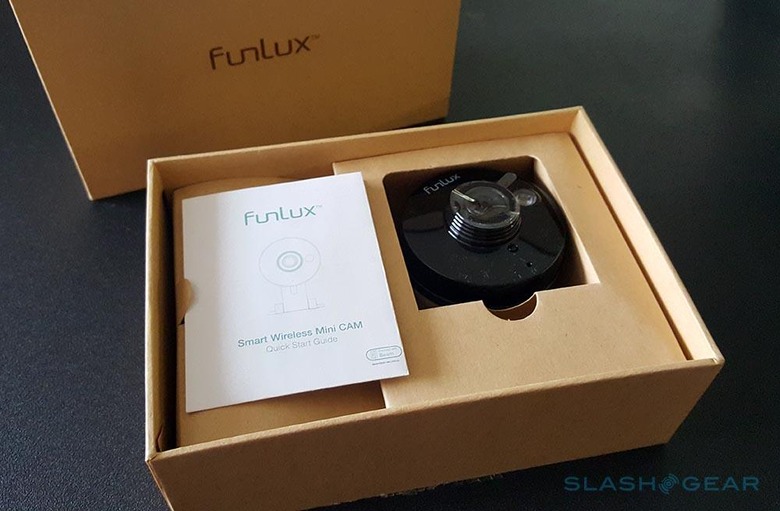 The Funlux camera is packed in a small, attractive box, and it includes everything you'd reasonably need to use it: a micro USB power cable, a hinged stand, a large knob to attach the stand to the camera, a mounting ring for mounting the camera on a wall, and mounting hardware like screws. The manual is well-written and easy to follow.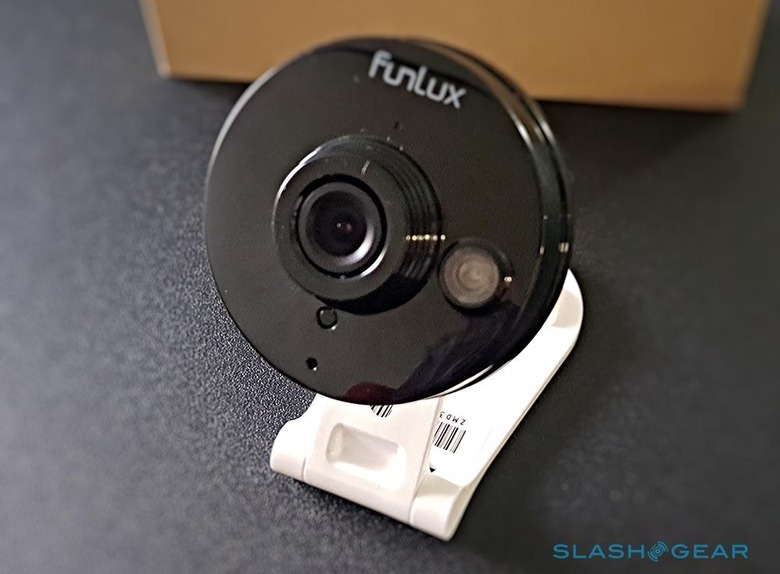 Placing the camera somewhere is as simple as setting it on a flat surface and positioning it at whatever angle you'd like. If you'd rather mount it on a wall, the small mounting plate has three small holes in which you need to screw the three included screws. The white camera stand snaps onto the mounting plate, at which point the camera can be moved both up and down as well as rotated.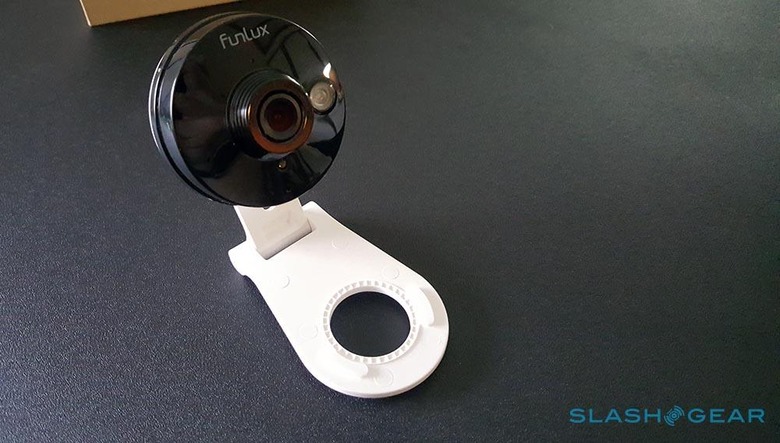 The camera is not weather-proof, so if you mount it outside, it'll need to be under a porch roof or in a similar place where it won't be hit with rain or snow. The integrated IR light automatically clicks on when the light sensor on the camera detects that it's too dark to adequately record without it. This LED IR light is advertised as illuminating up to 30ft from the camera, which it does. The night vision on this camera is great, especially when there are some extra ambient lights nearby.
As far as the camera itself goes, the item is very good. The image quality, while definitely not the best you can get on the market, is perfectly adequate for security camera purposes and above what I expected. Other features include a microphone for recording and listening to live audio, and a speaker for talking to someone outside through the camera. The speaker is very tinny sounding, but more than adequate for asking someone why they're knocking on your door.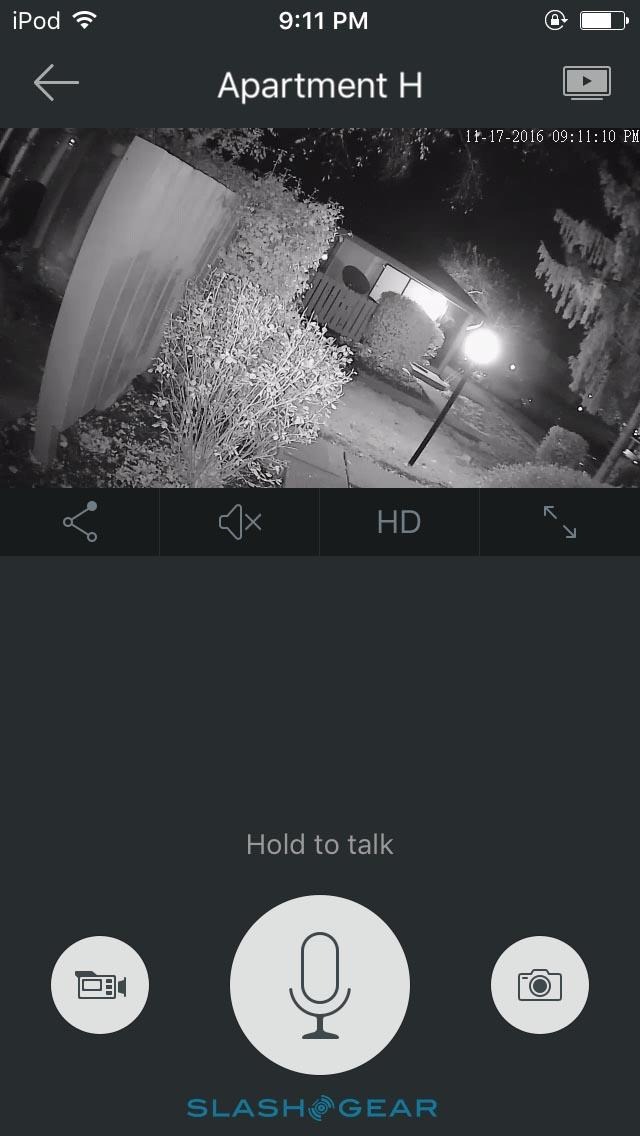 Setting up the camera, meanwhile, is a two-part process. First you have to download the app, which is simply called "Funlux" and is available for Android and iOS. After that, you have to press the reset button on the camera until the green light on it flashes.
Once this happens, you have to look for the WiFi network the camera broadcasts using the mobile app, connect to it, and then follow the in-app instructions for connecting the camera to your own WiFi network. This only has to be done once. I unplugged the camera, plugged it back in, and the app found the camera a few moments later without issue.
The app itself is mostly great, but with some caveats. The first issue is that it doesn't play as well with Android as it does iOS. The live video feed, when viewed using the Android app, had a habit of hesitating every few seconds, then speeding up slightly to catch the video feed back up to real time, repeating this in an endless cycle. The iOS version of the app runs perfectly on a 5th-gen iPod Touch, though.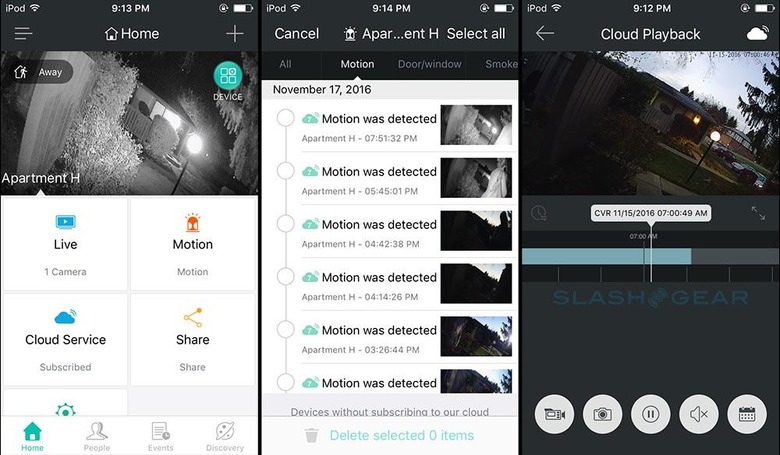 You don't get as many features with Funlux as you do with, for example, Nest Cam. You receive alerts on your phone when the camera detects something, you can view the live feed, view video captured during moments when the camera was alerted to something, manually record video and take photos, and share the recorded content. There are no smart algorithms sorting through the video feed for you to expedite the review process, though.
For those times your phone battery is dead, you can log into your online account and see how many alerts are outstanding, watch a live video feed from your camera(s), and you can review stored footage from the timeline. Video clips you manually capture using the record button are saved to the device and uploaded to the account as saved clips. You can access those from any web browser, play them, and download them.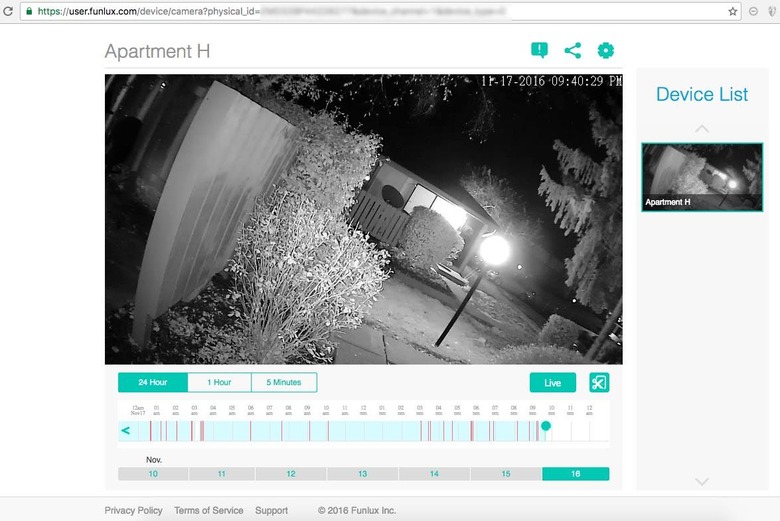 The camera comes with a free 60-day subscription to cloud storage, after which point Funlux suggests you'll have to pay for keep using the cloud service. Oddly enough, the company doesn't list any subscription pricing on its website or in the user account, however, so it isn't clear how much this will cost once the trial runs out.
Wrap-up
Overall, I consider the Funlux security camera a great product for the price. And that's the important part: you can certainly get a better item if you're willing to spend more. If this camera was intended to keep an eye on something important — let's say a child while the babysitter is over — I'd get a different camera just to ensure there's no issue with the stored video footage. But for casually monitoring people who come to the front door, it's perfectly fine.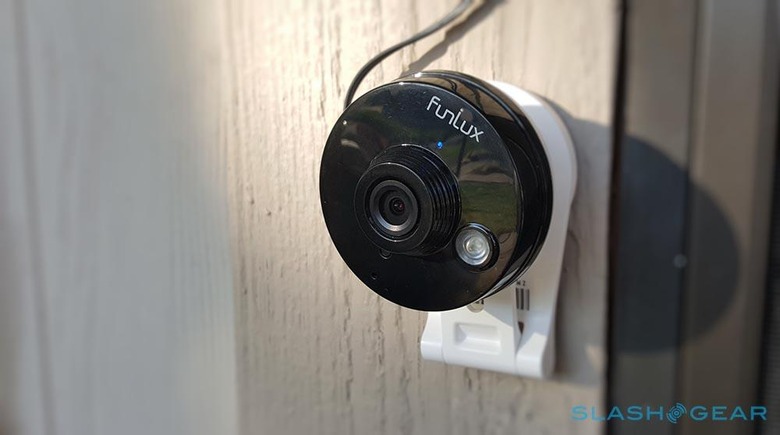 I've not experienced any issues with accessing the video feed or reviewing content during the weeks I've been using the camera, and I've not had any problems with the camera itself. It has been an entirely hands-free offering. I can pull up the live video whenever I feel like it, share anything the camera records, and best of all, it won't be a notable financial loss if someone steals or smashes the camera.