Review: Acer Aspire Switch 10 Special Edition -- A Small Hybrid Laptop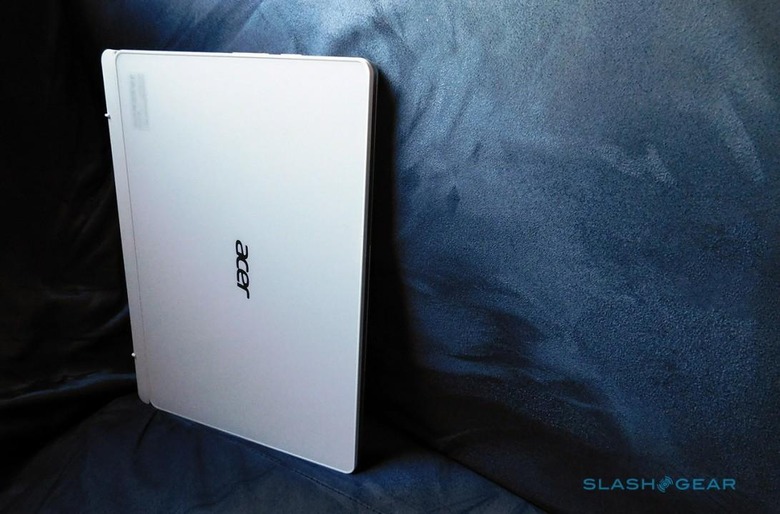 Convertible laptops have come a long way in the past couple years, deviating from the original floppy hingeless designs that are still too common in favor of a hinged, sturdy keyboard. This allows the same portability of a snap-free display while also functioning just as well as a regularly hinged laptop. Acer, as we've seen in the past, has embraced the hinged-convertible design, and it has demonstrated this yet again with its Acer Aspire Switch 10 Special Edition.
Hardware
A convertible laptop, sometimes also called a hybrid, is a combination between a laptop and a tablet — it's a tablet with a keyboard, or a laptop with a removable display depending on your perspective. You can snap the display free of the keyboard and use it as a tablet, but when it's time to type something up, chat with friends, or other keyboard-centric tasks, the tablet can be instantly transformed back into a laptop.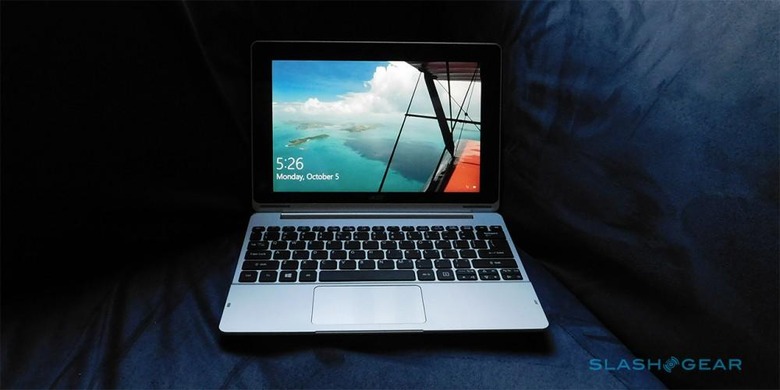 The Acer Aspire 10 Special Edition is a perfect example of this; it features a proper hinge on the keyboard, which means you don't have to be sitting at a flat desk or table due to a floppy keyboard cover. The display, though heavier than the traditional display on a regular laptop (due to its internal hardware), isn't so heavy as to tip the laptop over — the keyboard is balanced nicely in that regards.
To put it simply, you can place the Aspire Switch 10 Special Edition on your desk and type. You'll forget you're using a convertible system. Once you finish with your project, though, you can give the display a gentle tug and pull it free of the base. Now you have a portable tablet for playing games or watching movies in your comfy chair.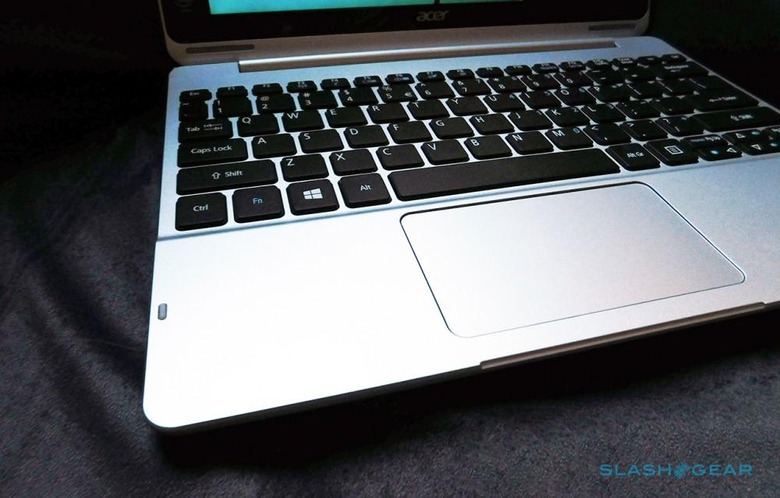 The model we've gotten our hands on is the SW5-015-16Y3, which is being sold at Costco. This model is special due to its Corning Gorilla Glass 3 cover, which gives it an extra dose of durability. The top of the display/tablet is smooth and glassy, while the keyboard base is made of a matte plastic that is lighter, but also cheaper looking (in contrast to the display).
The tablet portion features a 10.1-inch display with a 1280 x 800 pixel resolution; the display is bright and sides just slightly on the warmish color spectrum rather than the colder blueish tinge of some display. There's 178-degree wide angle views, Zero Air Gap tech, and 10-point multi touch support.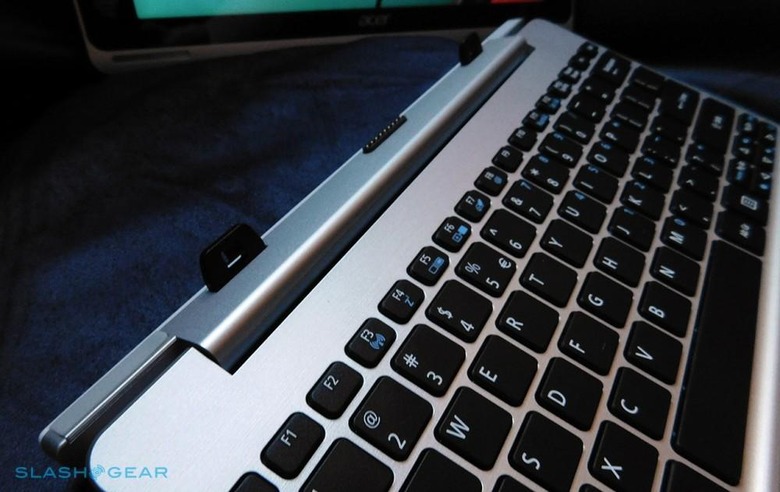 The base, meanwhile, features a second-gen Acer Snap Hinge 2 with a guiding plane to make it easier to connect the tablet portion. The hinge is magnetic, so there's no fussing with a latch — simply give it a tug and it'll come free. Fortunately, this doesn't mean the hinge is loose or weak — I turned it upside down and gave it a good shake (over a soft bed just in case), and the display held tight, not working loose at all.
Other notable features include Acer's LumiFlex technology, which improves the display's visibility outdoors — you can see the screen reasonably well in bright sunny conditions, and even better if it is overcast. There's also Acer's Bluelight Shield, a reading mode that turns down the blue light levels to protect one's eyes during long reading sessions. Joining this is a Precision Touchpad which works well, but feels a bit cheap, and a 2-cell battery that'll get you about 8 hours of run time on a charge.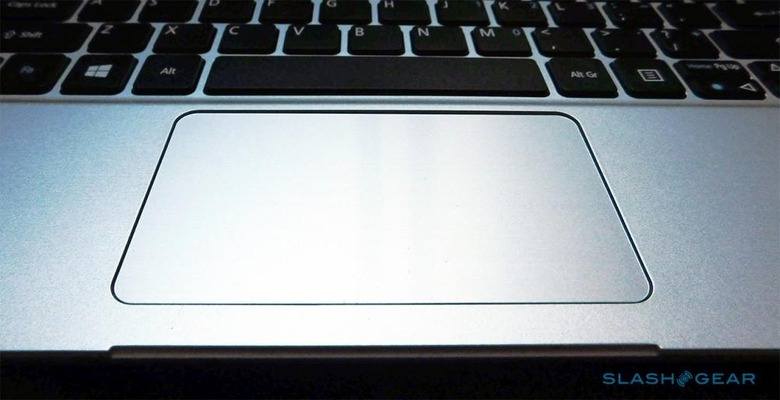 On a more technical level, our review unit features an Intel Atom quad-core Z3735F 1.33GHz processor with burst technology that boosts it to 1.83GHz; 2GB of RAM and 64GB of storage via an SSD. Graphics come by way of Intel HD Graphics, and there's HD audio via a pair of dual-stereo speakers. A micro SD card slot, integrated microphone, 802.11a/b/g/n WiFi, Bluetooth 4.0, and a FHD webcam round out the features.
Connectivity includes a single USB 2.0 port on the keyboard, a micro USB 2.0 port on the tablet, micro HDMI for video, and a combo audio jack.
Software
There's Windows 10, which runs just a touch slow but not sluggish on the system. Microsoft Office Mobile is included with the system — that suite comes with the mobile versions of Excel, PowerPoint, Word, and OneNote. The maker also includes its Acer Build Your Own Cloud pre-installed on the Aspire Switch.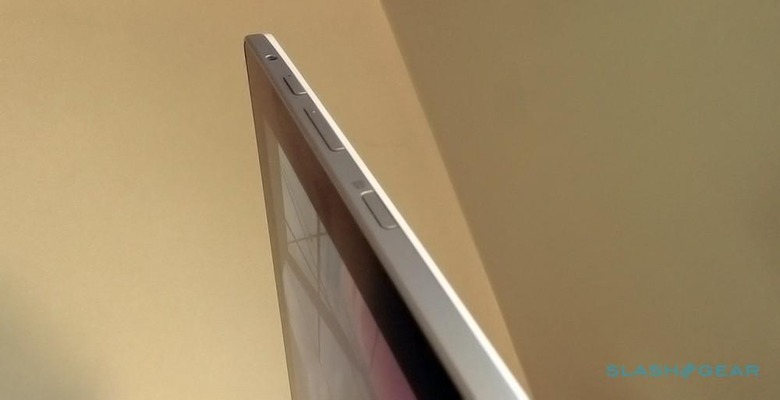 Other installed software includes McAfee LiveSafe, Foxit PahntomPDF, Netflix, Kindle, Music Maker JAM, Ebay Worldwide, and Acer Explorer. Nothing too intrusive, you'll just have to uninstall them if you don't want them.
Performance
The Aspire Switch 10 Special Edition's performance is akin to what we expect for the specs featured — it is a touch on the slow side, but not so much that it intrudes on usability; you'll likely only take notice if you're coming from a more powerful, zippier laptop. That slight slowness is the only performance complaint, though — streaming Netflix and Pandora worked fine, as did playing some online games and surfing the web. The system didn't bog down upon multi-tasking.
As you can see from the benchmarks, it is relatively low-powered, which is perfectly fine for many users.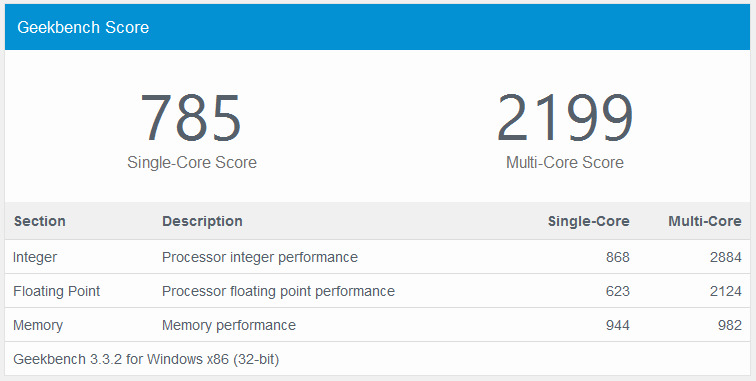 Conclusion
Acer Aspire Switch 10 Special Edition is a perfectly lovely laptop for everyday needs. When used as a laptop, it functions perfectly and doesn't betray the fact that it has a removable display. The tablet portion is especially lovely, particularly with the inclusion of Gorilla Glass for a shiny surface. It does lie on the chunkier side of the ultrabook spectrum, but is still an overall small notebook. If you're looking for something to take with you to the classroom, to use at a cafe, for the kids, or for general use, this Switch model will suit you just fine.
Price: $349.99 USD on Acer's website.