Renderings show what an OLED MacBook might look like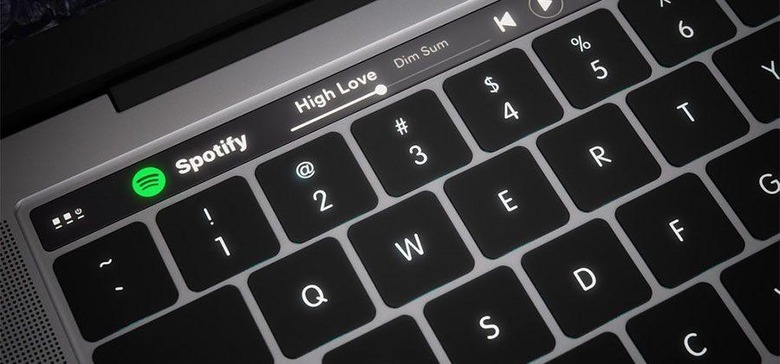 Back in late May rumors started to crop up that Apple might be out to make a big change to its MacBook for the first time in a while. According to these rumors prototype MacBooks had been spied that were fitted with an OLED strip across the top of the keyboard where the function keys would normally sit. The cool thing about replacing keys with an OLED touch sensitive strip is that the buttons on an OLED can be customized depending on what you are doing. A slew of renderings have now turned up showing what the final product might look like.
The renderings are well done and appear to dovetail nicely with the leaked chassis that we have already spied in photos. The 3D renderings show a customizable section that can change what you see to match the app running, Spotify fans will see buttons for controlling playback for instance. Only time will tell if the rumor is true.
If this rumor proves to be true, Apple wouldn't be the first to fit OLEDs to a keyboard, but it would be the first major firm to do so. We have seen a slick little keypad called the Optimus Pultius in the past that replaced printed keys with multiple little OLED screens. The leaked images we have seen so far are only of the chassis for the notebook (at least it's claimed to be a MacBook chassis) that is missing the function keys. The leaked shots also show few ports aside from a quartet of USB-C ports with two on each side.
That might look clean, but many computer users want more functionality than USB-C ports alone. It appears you will need lots of adapters if you want to continue to use your old normal USB peripherals and accessories. Also of note, missing on the leaked photo is the MagSafe charge port.
SOURCE: Martin Hajek