Renault unveils black light loving Twin'Z concept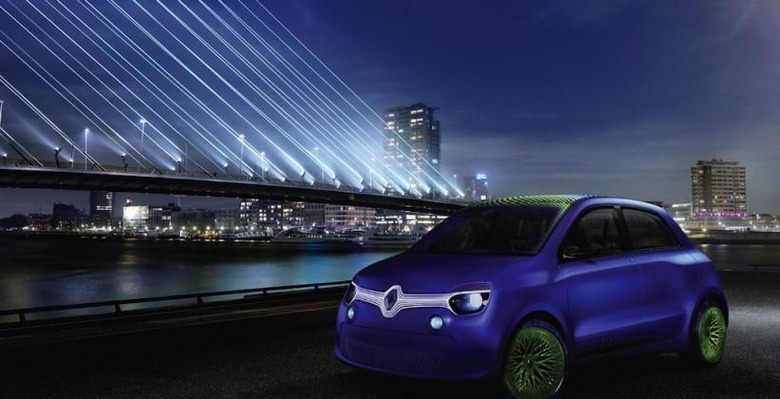 Renault has unveiled a new concept car called the Twin'Z. The car reminds me more than a little of the Fiat 500 from some angles. However, the Renault concept car has lots of glow-in-the-dark touches and an interesting set of backdoors. The concept car is a work by Renault with British designer Ross Lovegrove.
Renault says that the Twin'Z is a fun, modern, artistic take on a city car that draws inspiration from the Renault 5 and Renault Twingo. The Twin'Z is an all electric city car featuring rear-wheel drive and a rear-mounted electric motor. The car is very small at 3.62 m in length and features 18-inch wheels.
The all-electric rear-wheel drive architecture allowed Renault to push the wheels to the extreme corners of the vehicle for a solid footprint and large platform. Pushing the wheels to the corners the vehicle also allow outstanding cabin space inside the car. One of the most interesting features of the concept car are the doors.
The front doors open forward like traditional doors, but the rear doors are rear hinged allowing the complete interior to be opened up. The vehicle uses LED lighting all around and on the inside. The vehicle is 1705 mm wide and 1506 mm high. The wheelbase is 2495 mm and the vehicle weighs 980 kg. The top speed is 81 mph and the vehicle has a driving range of 100 miles on a charge. The rear-mounted electric motor produces 68 hp. To reduce weight and increase the driving range, the car uses carbon fiber bodywork.
[via Renault]