Reiter Gallardo Extenso stretches Lamborghini FL2 GT3's prowess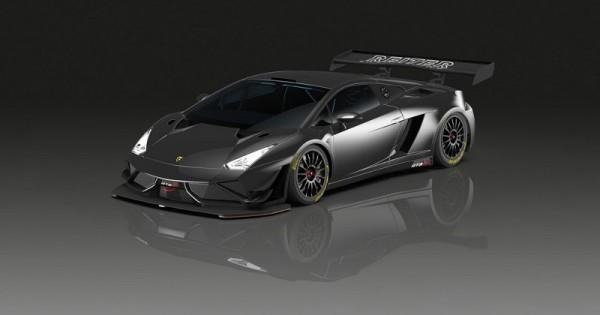 Reiter Engineering, Lamborghini's official Gallardo GT3 partner, has just unveiled what it dubs the Extenso R-EX. As the name suggests, this car extends the FL GT3, already a race-car version of Lamborghini's popular Gallardo line. With a wider rear, new materials, a more aggressive visage, and a better sounding engine, the Reiter Gallardo Extenso is poised to be the next evolution of the Gallarado GT3 line and will be the car maker's new contender in future races such as those in the Blancpain GT Series and the US Pirelli World Challenge.
For the sake of fairness, GT3 cars are subjected to "Balance of Performance" requirements that puts certain limits to a car's weight, power, etc. Although the FL2 GT3 is already compliant, the Extenso extends some parts just a wee bit further without exactly going beyond borders. For example, the car is now wider, from the FL2 GT3's 1,920 mm to 2,050 mm, the exact maximum allowed. That change isn't purely aesthetic, though, as the wider rear affords more rear end grip and less rear downforce, which results in an overall increase in speed. A change in weight is also a factor in that speed increase, thanks to the use of carbon fiber rear quarter panels instead of aluminum.
From the aesthetic point of view, the Gallardo Extenso does have changes, aggressive ones, according to Reiter That is thanks to new front headlights and new rear lights working together with the wider carbon rear of the car. That aggressive look, apparently, is quite important for GT race car drivers and their audience. The other important thing for them is a great sounding engine, and the Gallardo Extenso has also been tweaked to provide that as well. All in all, the Reiter Gallardo Extenso was designed to bring back emotion in GT racing, a quality that was lost after the days of the GT1 class, so says Reiter Engineering owner Hans Reiter.
Only 10 Reiter Gallarado Extenso's will be delivered to customers, each costing 248,000 EUR or around US$309,500. The customer can decide whether the Extenso will come in a completely Carbon – Black color scheme or if it will have a touch of Titanium – Grey to emphasize Lamborghini's distinctive style.
SOURCE: Reiter Engineering
VIA: Gizmag