Regal Cinemas Unlimited Movie Subscription: The Fine Print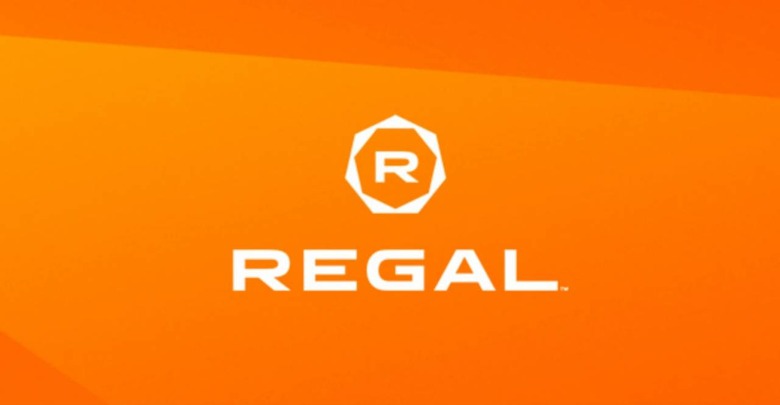 Regal Cinemas has decided that it's going to jump on the monthly subscription train with a program of its own. While some competitors like AMC limit subscribers to a certain number of movies per month, Regal isn't doing that, instead limiting subscribers by theater. As such, there are three different tiers to these "Regal Unlimited" plans, each with different restrictions and pricing.
It's a little convoluted, but the key takeaway is that if you live in a big city, chances are you'll wind up paying more for your subscription. Regal Unlimited starts at $18 per month and allows for viewing at "more than 200 theaters" across the nation. Regal Unlimited Plus is the next step up, as it costs $21 and bumps the number of theaters up to more than 400. Regal Unlimited All Access is the top tier, including all 550 Regal theaters in the United States for $23.50 per month.
You can see a list of all Regal theaters and the plan they require over on Regal's website. If you live in California, for instance, most of the theaters in that state require either an Unlimited Plus or an All Access plan. The same is true for New York, and in fact, there are no theaters throughout the entire state that eligible for the basic Regal Unlimited plan.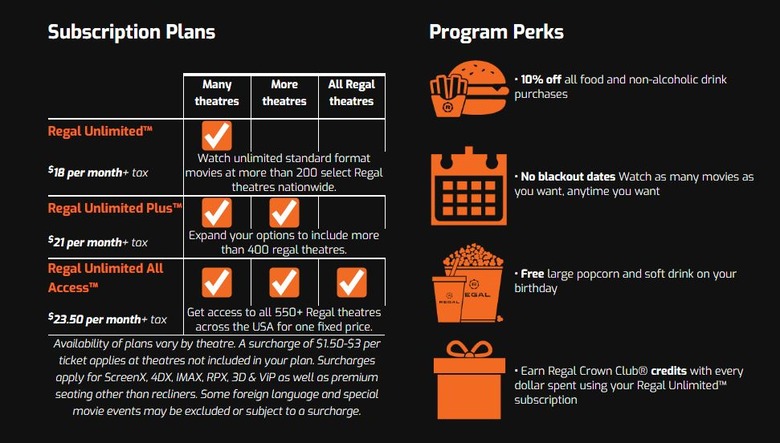 In addition to unlimited movies, you'll get some extra perks through Regal Unlimited. You'll get 10% off all food and non-alcoholic drinks you purchase at the theater, along with a free large popcorn and soft drink on your birthday. Regal also says that there are no blackout dates on movies, which is a nice touch.
This all sounds pretty good for people who see a lot of movies, but there's one kicker that you need to consider before you sign up: Regal Unlimited is a contractual agreement that lasts for 12 months, so when you sign up, you're committing to paying for a full year. The lengthy FAQ on Regal's site also says that you can't downgrade your subscription during your first year (curiously, that same restriction doesn't apply to upgrading), so if you're going to sign up, you should definitely do some research to make sure you're picking the right plan for your local theaters.
With that said, if you're on a basic Unlimited plan, you can still see movies at theaters covered by the Plus and All Access plans by paying a surcharge – $1.50 per ticket at Plus theaters, and $3 per ticket at All Access theaters. You'll also be looking at surcharges for premium formats like IMAX and ScreenX (all of Regal's subscription plans only cover standard 2D showings), and if you book ticket reservations through the Regal app – which is how you'll manage your Regal subscription in the first place – you're looking at a surcharge of $0.50 per ticket.
So, even if you sign up for one of these plans, you'll probably still be paying in one form or another through these surcharges, and that's something to be aware of. You can sign up by downloading the Regal app on iOS or Android, but before you do that, be sure to read through the entire FAQ linked above and the program rules.