Reevu shows off the world's first rear vision motorcycle helmet system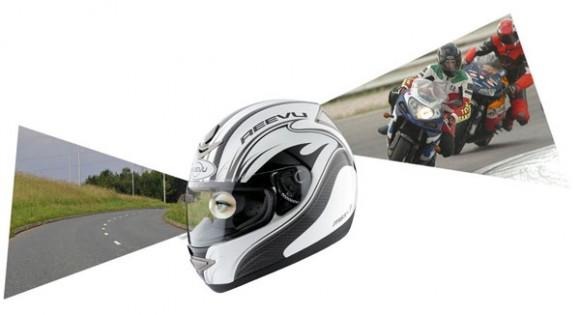 While helmets aren't required in many states to ride a motorcycle on the streets, a huge number of riders do choose to wear a helmet to help protect them in the event of an accident. One of the complaints of wearing a helmet is that it limits some of your vision and makes it more difficult to see what's going on behind you. A company called Reevu has a helmet that has the world's first rear view imaging system built right in.
The helmet is called the RV MSX1 Motorcycle helmet and has a flip up front. The helmet will be ready for the 2013 riding season and has been tested and approved to DOT standard for the US and ECE 22.05 standards for European markets. The helmet has an integrated optical device that allows motorcyclists to view the road behind them through the helmet.
At first glance you might think that the helmet uses a camera system, but it doesn't. The optical device that shows the rider what's behind them uses a number of reflective surfaces that are coated onto a bullet proof material. The optical device bends light over the top of the wearer's head allowing them to see what's behind them using their peripheral vision.
The company already has a standard full face model planned (pictured) called the RV FSX1 that will launch later this year. The helmet offers motorcyclists a rearview mirror system. The optic system can be moved to adjust the rearview to suit the rider's needs. The reflective polycarbonate plate used in rearview system also act as a crumple zone in the event of an accident helping to protect the rider even further.
[via Reevu]