RedRock Boardshop offers DIY electric-powered skateboard kit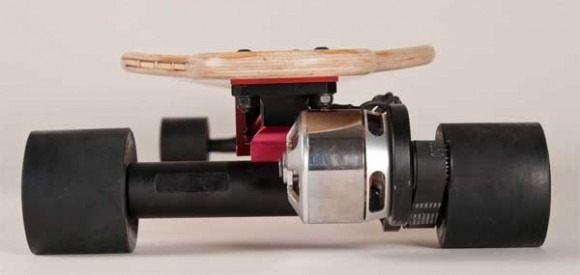 A new project has landed on Kickstarter that offers a DIY kit allowing users to create their own electric-powered skateboard. The kit comes from a company called RedRock Boardshop and is for a "universal motorized skate truck." The idea is that by offering a modular kit with a motorized skateboard truck, users can choose their own board deck and create the electric vehicle themselves.
The DIY kit has a patent pending is called the LaGrange L1. The electronics are completely programmable and include settings optimized for the 3200 W 4.3 HP premium brushless outrunner motor, which isn't included. The hardware is ready to bolt onto a skateboard deck and ride. The company has turned to Kickstarter to raise the money needed to distribute their DIY kit.
The project runs through Sunday, October 28 and is seeking $99,999 in funding. So far the project has only raised $4480 so it seems unlikely that the company will reach the nearly $100,000 goal. You have to pledge at least $300 or more to get the LaGrange motorized skate truck. The catch at this level is that you have to add your own motor, electronics, and other skate parts.
A pledge of $400 more gets you the motorized truck minus the motor, electronics, and other parts, plus a CNC precision milled front truck for your board. If you want a complete kit with all the electronics, batteries, and most of the other parts you need you have to pledge $950 or more. Even at this level user still, have to add a deck, wheels, front truck, and backpack to hold the batteries.