Redesigned 2013 RAV4 looks to win back the small SUV market for Toyota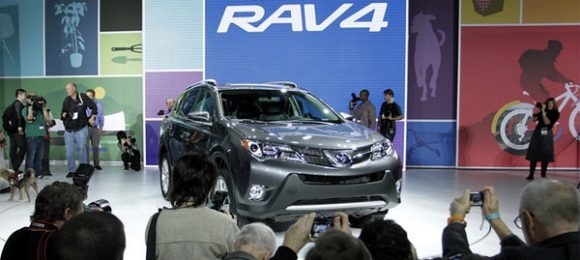 Toyota has shown off the new 2013 RAV4 mini SUV recently. The little SUV first debuted back in the mid-1990s as a smaller and cheaper alternative to the big full-size SUVs on the market. The small SUV was a hit initially, but its popularity declined as other automakers offer their own small SUVs.
The redesigned 2013 RAV4 has significantly changed, and is much better looking. The redesigned vehicle has styling cues that look more like a wagon and less like a bulky SUV based on a truck chassis. The new design gives the RAV4 a lower roofline and a more attractive and sleeker exterior.
One notable design change on the exterior from previous models of the small Toyota SUV is that the spare tire previously carried on the rear door is now hidden in the rear cargo area. Toyota is also pricing the new RAV4 very competitively with the base model starting at $23,000. Higher-end versions can go significantly higher than the base price.
A fully loaded Limited all-wheel-drive version of the RAV4 will sell for over $28,000. Toyota hopes the redesigned SUV will reach a sales goal of 200,000 units next year. Interestingly, the original RAV4 was designed only Toyota Corolla chassis.
[via BusinessWeek]