Realease Shogo Tablet is 10 Inches of Developer Goodness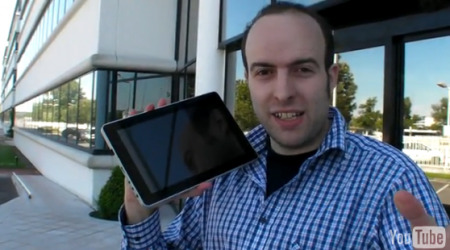 You might've looked at that title a few times, thinking we made a typo. Well, we didn't. Realease (real-ease) have just pulled the curtain off a brand new 10-inch tablet that runs on Linux, and is predominantly designed for all the developers out there that would like a more mobile way to design things. It's got a few options to make any tablet fan out there happy, so let's just dig right into it.
First and foremost, there's going to be two options: the first, which will be available this August, is the 10-inch version is based on Freescale's i.MX37 (ARM 11) processor; while another model features Freescale's i.MX51 (ARM Cortex A8) processor. The entire Linux Operating System is, obviously, based on open source methodologies, so the tablet itself is open for interpretation, and is basically only limited to your development know-how. There is a very simple User Interface (UI) implanted on the device, which promotes HTML5-based applications.
You'll find three USB connection ports, two of which are external and one's tucked away inside. You'll also find Ethernet connector, a microphone port, as well as a port for headphones. There's an integrated webcam of unknown MP, and there's an accelerometer as well. But, probably best of all, there's a kickstand, too. As we mentioned, the Shogo tablet is designed for developers, so it doesn't look like Realease has any plans to make it "widely" available, but we imagine that if you were really interested (and not necessarily a developer), you could get your hands on this bad boy later this year. No word on pricing quite yet. But check out the video, as one very enthusiastic man shows off the pretty new piece of tech.
[via ARM Devices]