Real Racing 2 HD Unleashed On App Store For iPad 2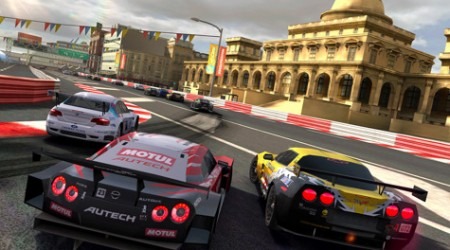 The popular iPhone racing game, Real Racing 2, has just been unleashed in an HD version for the iPad. The game has been optimized for the unique hardward of the iPad and iPad 2, taking full advantage of the faster processors and larger displays, especially with the iPad 2's dual-core processor and 9x faster graphics.
Real Racing 2 HD for iPad has all the same content as Real Racing 2, but adds to that an expanded career mode with additional races designed exclusively for the iPad. Superior graphics along with precision controls with full support for iPad 2's gyroscope make this the ultimate iOS racing experience.
Saved games can be transferred from Real Racing 2 on your iPhone to Real Racing 2 HD on your iPad. Also supported is seamless multiplayer gaming up to 16 players between Real Racing 2 and Real Racing 2 HD. The game is available now in the App Store for $9.99.