Razer Phone 2 faces off with razors and more in durability test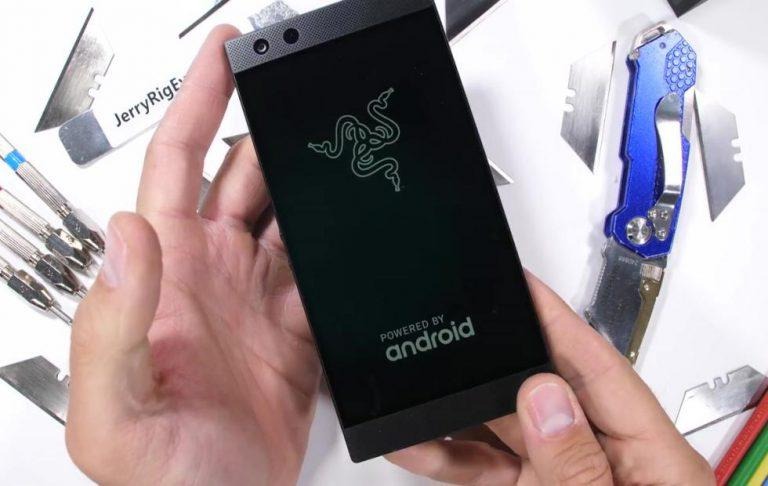 The Razer Phone 2's design belies its gaming chops, at least until you start flashing those Chroma RGB colors underneath the logo on its back. Like its immediate predecessor, the Razer Phone 2 inherits the blocky design of its spiritual predecessor, the Nextbit Robin. The latter, however, suffered a humiliating death in the hands of JerryRigEverything's Zack Nelson. Will the Razer Phone 2 take after that or after the Razer Phone 1? JerryRigEverything puts it through its usual torture tests to find out.
With a name like Razer Phone, you can't help but put it to a scratch test. Fortunately, that's also Nelson's first test anyway. With glass on its front and back and metal on its side, the Razer Phone 2 would withstand almost everything in your bag or pocket. Unless you have a Mohs level 6 pick there. Even the scratchable fingerprint scanner works flawlessly even with that much damage.
Then there's the all-important burn test. With a phone that's designed to withstand the heat inside, you have to be sure it can withstand the heat outside as well. Like any LCD panel, the Razer Phone 2 lasted around 19 seconds before going black and turning off. It does recover, of course, once it cooled down.
Finally, the bend test. Given the Razer Phone last year didn't end up in broken pieces, it's really no surprise that the Razer Phone 2 didn't either. In fact, Nelson remarks it might even be sturdier than last year's model. Then again, the phone does look like a deadly weapon you can throw at evildoers.
While the Razer Phone 2's durability outside is interesting, its insides might be even more. The programmable LED lights will definitely be a curiosity for the YouTuber, even if it might not seem to be all that when used under bright light. Then again, that might be for the best, as the Razer Phone 2 can still masquerade as a serious phone in those business meetings.