Razer Naga Hex V2 mouse aims at League of Legends gamers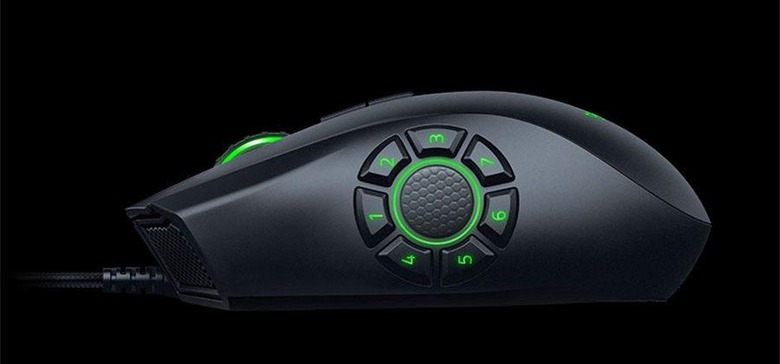 Game peripheral maker Razer has unveiled its latest gaming mouse called the Naga Hex V2. This mouse isn't aimed at FPS gamers, it's aimed at gamers that like to play multiplayer online battle arena (MOBA) games such as League of Legends, Dota 2, and Heroes of the Storm. The mouse has seven buttons and a mechanical thumb wheel optimized for that sort of gaming.
The buttons are arranged in a circle on the right side of the mouse. The mouse appears designed for right-handed users. The mouse also has profiles baked right in for some of the most popular MOBA gamers for more efficiency while playing. The laser sensor used in the Naga Hex V2 offers true 16000 dpi resolution for precision no matter what resolution you are playing at or what size the screen. The mouse features include a tilt click scroll wheel and Razer Chroma lighting.
The Chroma lighting system allows the gamer to choose from one of 16.8 million customizable colors for the buttons and lighting. The mouse can track accurately at up to 210 inches per second with 50 G of acceleration. It has a 1000Hz ultrapolling rate and 1ms response time. The feet of the mouse are zero-acoustic ultra-slick so the mouse glides silently over the mouse pad surface.
A 7-foot braided cable connects to the PC USB port and the mouse is Razer Synapse enabled. Dimensions are 119mm L x 75mm W x 43mm H and the mouse weighs 135g with the cable. Razer launched the mouse on June 14 in the US and it will be available globally later in the month.
"This gaming mouse will help MOBA gamers achieve a better balance between keyboard and mouse commands, allowing you to react better to different situations," says Lee "Faker" Sang-hyeok, mid-laner for Team SKT's professional "League of Legends" team. "The placement of those extra buttons gives you accuracy without the worry of mis-clicking."