Razer Mercury Collection 2019 revealed with nine all-white accessories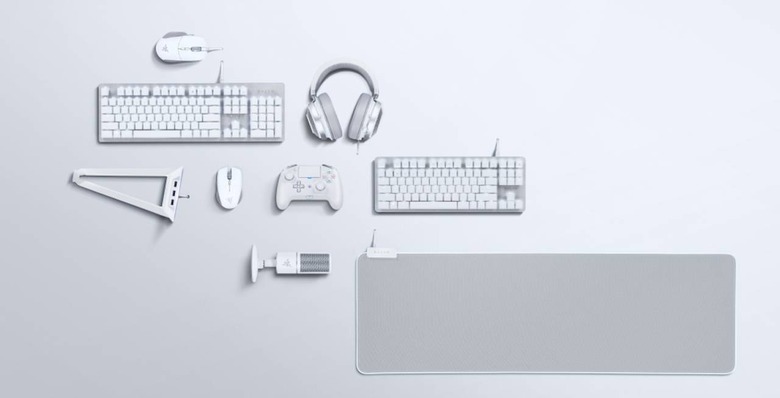 For the past couple of years, Razer has been re-releasing some of its gaming accessories as part of its Mercury Collection, which gives all of those peripherals a white redesign. Today, Razer revealed the Mercury Collection for 2019, and there are nine accessories joining the collection in all, from mice and keyboards to microphones and even a PlayStation 4 controller.
Atheris and Basilisk mice
There are two mice kicking off the Mercury Collection in 2019. The first is a white edition of the Atheris, a wireless mini mouse that Razer claims is perfect for both work and play. While it probably isn't as comfortable as a full-sized mouse, it's a good choice if you hate using trackpads and want to pack a mouse in your computer bag. Razer also says that the mouse can last more than 300 hours on a pair of AA batteries when connected using Bluetooth, which is nothing to stick your nose up at.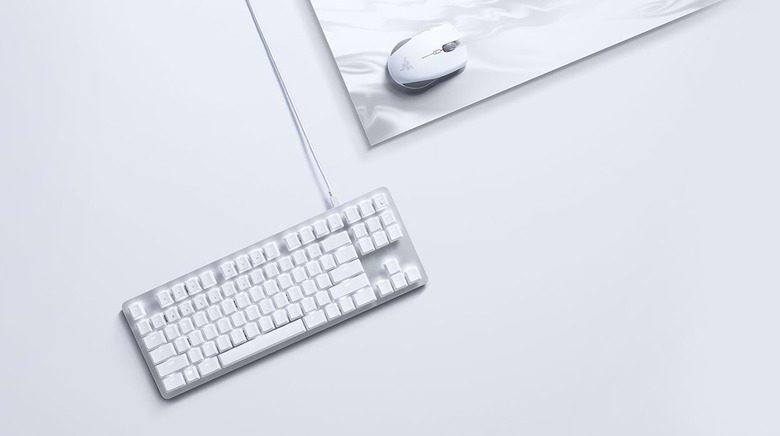 The Atheris, which runs $49.99, is joined by the Mercury White Basilisk, a wired mouse that costs $69.99. If you'll be gaming primarily at a desktop set up, this is the one you want, as it's outfitted with a Razer 5G sensor that tops out at 16,000 DPI. As with most of Razer's gaming accessories, the Mercury Edition Basilisk also supports Chroma, so you can customize its look with RGB lighting.
Goliathus Extended Chroma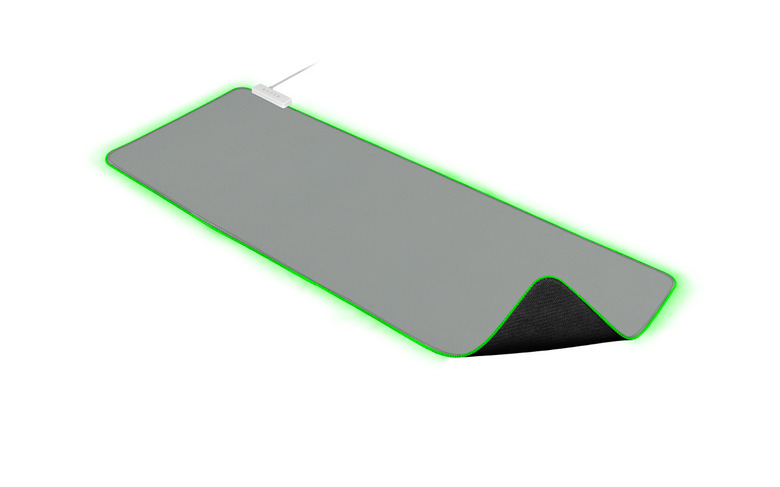 If you're in the market for a mouse mat, the Goliathus is about as high-end as they come. Not only is this mat wide enough for your keyboard and mouse, but it also features Chroma lighting, so you can sync it to your PC accessories and really put on a light show. We're not sure if it's a good idea to buy a white mouse mat given all of the use it'll see over its life span, but if that doesn't dissuade you, the Goliathus Mercury Edition might be worth picking up for $59.99.
BlackWidow Lite and Razer Huntsman
The BlackWidow is perhaps the most well-known gaming accessory from Razer, and the BlackWidow Lite removes the frills. With no number pad, it's smaller than a lot of gaming keyboards, and the fact that it's got LED backlighting makes it less expensive at $89.99 than many of Razer's Chroma keyboards. Again, buying a white accessory that will see a lot of use is questionable, but as long as you don't neglect upkeep, the BlackWidow Lite could indeed be a sharp addition to your rig.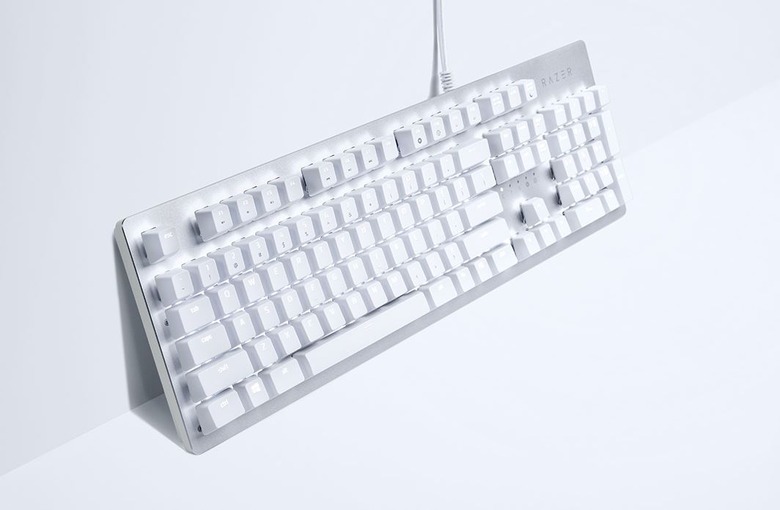 The Huntsman, on the other hand, offers more of what we expect out of a gaming keyboard. Since it's a full-size keyboard, the number pad is present, and of course, there's Chroma RGB lighting as well. The opto-mechanical switches in the Huntsman even detect actuation using infrared beams, so it's a pretty serious keyboard with an equally serious pirce tag of $149.99.
Kraken and Razer Base Station
The Kraken is the only Razer headset to get a Mercury Edition release this year, and for those who don't want to split their audio setup between a pair of headphones and a dedicated mic, it's worth a look. Outfitted with 50mm drivers and gel cushions that claim to keep you cool when you're wearing them for long periods of time, its $79.99 price point certainly makes it cheaper than buying headphones and a mic separately.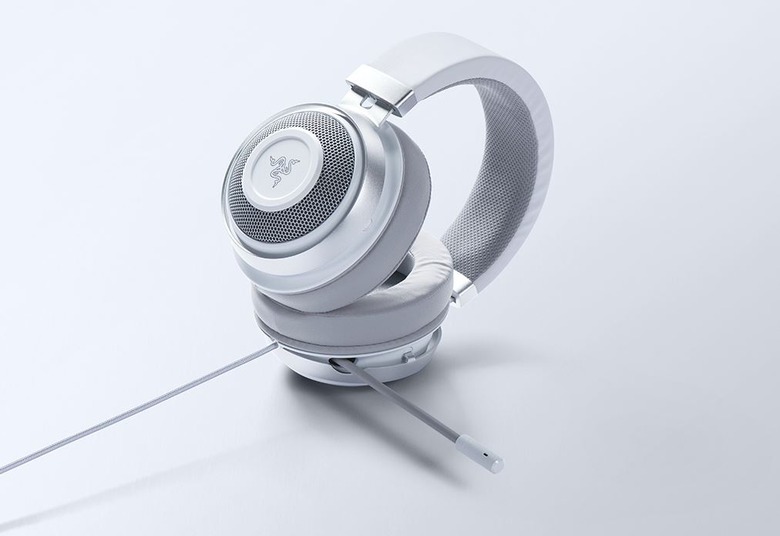 If you need a place to store that headset so it doesn't get stepped on, Razer is hoping you'll pick the Base Station Mercury Edition. Headset stands might not be the most essential PC gaming accessory, but the Base Station at least has three USB 3.0 ports on the front of it. It also unsurprisingly has Chroma support too, like most of Razer's accessories. Is that worth $59.99? That's up to you, but at least the Mercury Edition will match that white and gray Kraken you see above.
Razer Seiren X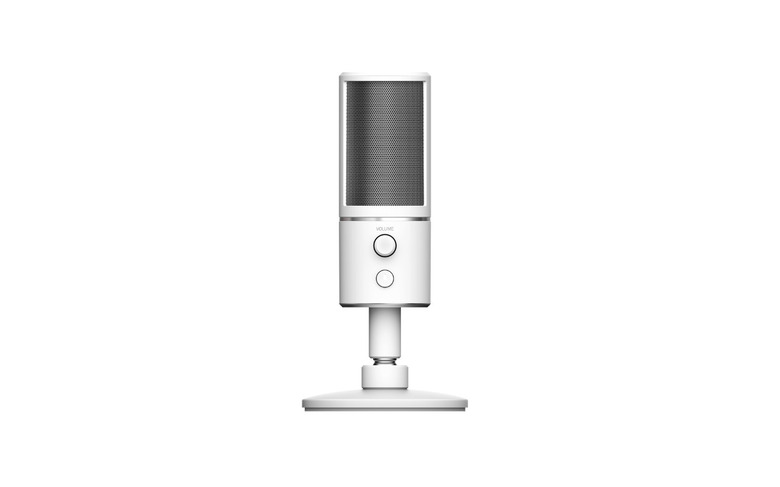 If, on the other hand, you'd rather have a standalone mic to bump up voiceover quality while streaming or making videos, the Seiren X Mercury Edition might be more your speed. Razer positions it as an entry-level microphone for streamers who want to take a step beyond headsets with built-in mics, and its $99.99 price tag definitely reflects that. No Chroma support here, but we have a feeling it's only a matter of time before Razer finds a way to outfit the Seiren X with RGB lighting.
Raiju Tournament Edition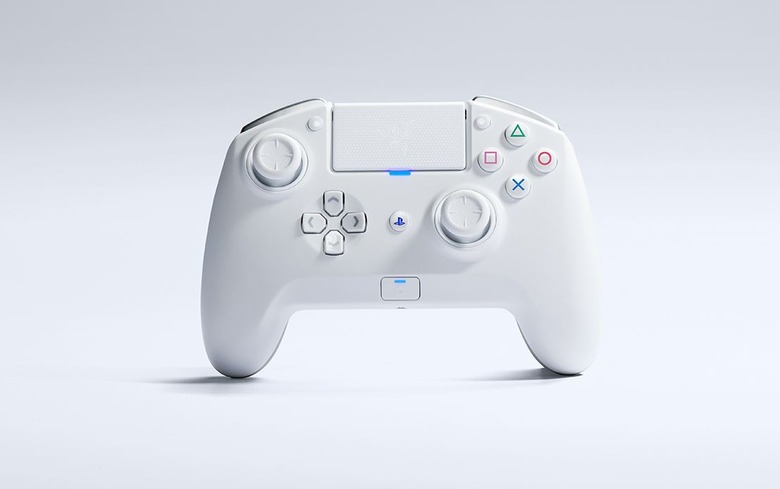 Finally, we come to an oddity in Razer's Mercury Collection 2019 lineup – an accessory not meant primarily for PC gaming. The Raiju Tournament Edition modular controller was created for PlayStation 4, and it even comes with its own companion app for configuration. The Raiju Tournament Edition isn't available in the US yet, but now that it's getting a Mercury Edition refresh, maybe that will change.
Wrap-Up
So, if you find yourself in need of PC accessories and you happen to like white color schemes, Razer's lineup of Mercury Edition devices for 2019 is probably pretty exciting. It seems that all of these accessories are now available from Razer's Store, so if you're fond of the Mercury Collection, have at it.