Rates released for German iPhone customers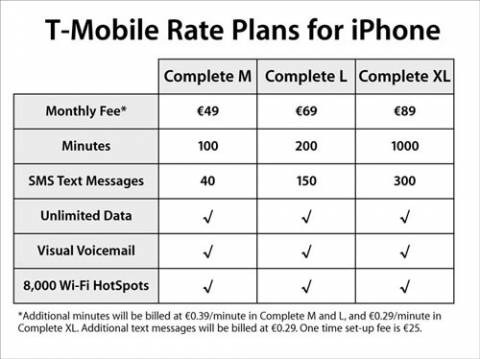 I don't live anywhere near Germany, but since our readers are from all over the globe, I thought that I would let you know that Apple and T-Mobile have announced their rate plans for the iPhone in Germany.
As you can see the plans will range from €49 to €89 per month. You'll range from 100 to 1000 minutes and between 40 and 300 text messages. All plans include Unlimited data, (you'll need it) Visual Voicemail and access to over 8,000 WiFi hotspots.
As with any other country, you'll need internet access to activate your shiny new iPhone. You'll also need to be running either OSX 10.4.10 or later, or Windows XP SP2 or any version of Windows Vista except Home Basic.
Apple and T-Mobile unveil iPhone rate plans for Germany [via appleinsider]