Rare near-Earth binary asteroid features two massive space rocks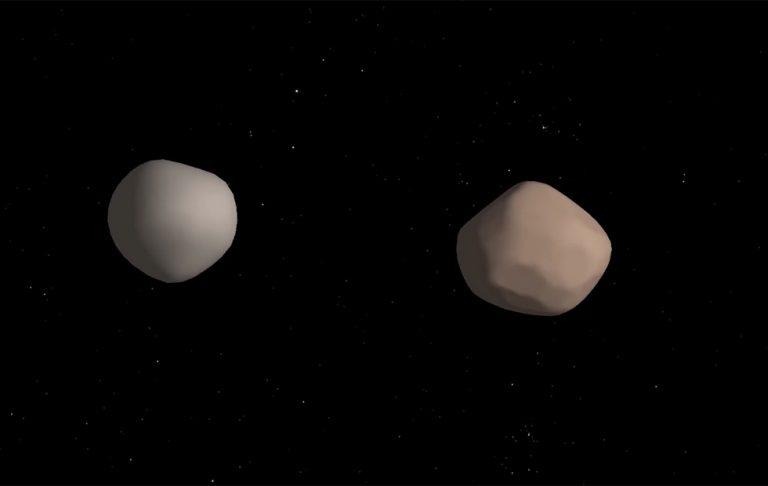 In December 2017, the Cadi Ayyad University Morocco Oukaimeden Sky Survey discovered a space object dubbed 2017 YES. Not much was known about the object at that time, but thanks to some of the world's biggest radio telescopes, we now have an answer: it is a binary asteroid. According to NASA, which has published a GIF of the actual asteroids, this is one of only four near-Earth binary asteroids with similar masses ever spotted.
A binary asteroid is composed of two asteroids locked in an orbit with each other. The 2017 YES asteroids are both about the same size at approximately 3,000ft across and are not touching, says NASA, which released both actual images of the space rocks, as well as the concept video below. The binary asteroid was at its closest point to Earth on June 21, paving the way for these observations.
NASA refers to this as an "equal mass" binary asteroid, adding to its rarity (at least in proximity to Earth). The system won't be this Earth again for 170 years, making this a milestone observation for researchers. Experts in multiple locations around the globe worked to confirm 2017 YES's nature.
Each object rotates around the other every 20 to 24 hours, NASA explains. Light reflection observations lead researchers to believe that 2017 YES is likely "as dark as charcoal," according to the space agency, yet another unique aspect of the binary asteroid. In comparison, most binary asteroids feature a large object and a smaller object and have been observed to reflect a greater amount of light.
There are differences in reflectivity between these two objects, leading researchers to speculate that they may have different densities; different roughness on the surface or surface compositions may also explain the observations. The GIF below shows actual images of the two space rocks: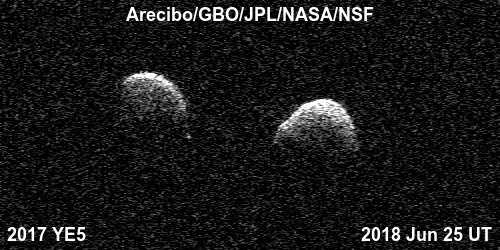 SOURCE: NASA