Rare Fire Rainbow appears over Isle of Palms, SC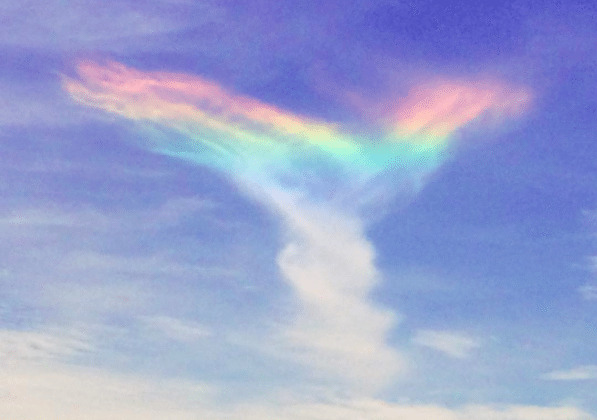 On Sunday, South Carolina became the canvas for a rare "fire rainbow", which is a rainbow that, in this case, twisted upward in the sky and formed what appeared to be a pair of wings. The phenomenon happened at Isle of Palms, and isn't something you're likely to see too often. It is rare enough, in fact, that many viewers were baffled by the sight, but a quick look at the tweets filling Twitter reveals they found it pleasant regardless.
A fire rainbow is rare because of the specific conditions required to generate one — they only happen in high-level cirrus clouds composed of small ice crystals. The sunlight must then hit the icy crystals in such a way that a prism effect results and those nearby see a rainbow.
This is the same phenomenon that happens when you see, during sunsets, the different bright colors, such as oranges and reds, that light up the sky. In this case, though, the colors show up as a proper rainbow which appears to paint a single cloud.
The local news agency that reported on it, WCSC, has several images of the fire rainbow on its website (link below). This isn't the first interesting display from nature we've seen: everything from fireballs to strange clouds to crabs on Mars have caught the public interest. Check out the timeline below for more!
SOURCE: WCSC
Main image via icrw70