Rainbow Six: Siege event introduces loot boxes, $20 price increase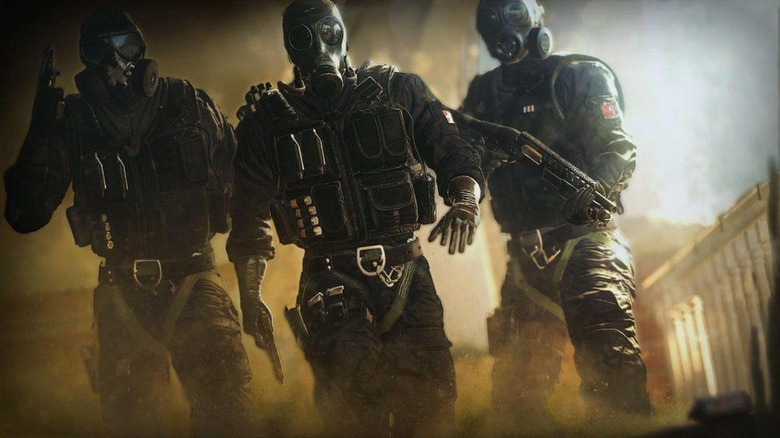 Rainbow Six: Siege developer Ubisoft recently announced the game's next big event, "Outbreak," kicking off in the spring. However, this event, which has players teaming up to battle a mysterious infestation in a quarantined town, also comes with several controversial changes that have left the game's community upset and frustrated. Namely, the addition of cosmetic loot boxes, and a price increase for new players.
The Outbreak event is expected to have players fighting against zombies, and will be open to everyone during its four-week duration. Also being introduced are Outbreak Packs, which are loot boxes containing one of 50 new cosmetic items. Ubisoft says players will be able to earn four free packs during the event, but otherwise they'll cost 300 R6 Credits, or $2.50 each. Fortunately it's guaranteed that there will be no duplicates, so acquiring 50 packs will grant all 50 unique items.
Rainbow Six: Siege's other big change equates to a $20 price increase for new copies of the game, which is a lot for a title that was released just over two years ago. A $15 Starter Edition will remain available, albeit only on PC. Starting February 13th, the existing $40 Standard Edition for PS4, Xbox One, and PC is going away, and in its place is a new $60 Advanced Edition, which will include 10 Outbreak Packs and 600 R6 Credits (a value of $30 if purchased separately). Similarly, the Gold Edition (which includes the Year 3 content pass) is increasing from $70 to $90, while the Complete Edition (includes Year 1 and 2 content) rises from $110 to $130.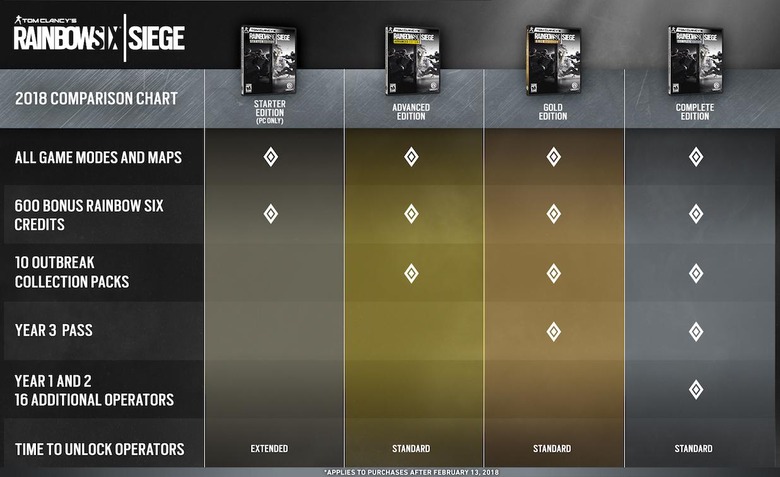 These two changes have many players upset, although not for the exact same reason. On the game's subreddit, some are complaining about the fact that new players now have to spend $60 on a two-year old game, and that they're forced to spend $20 extra on cosmetics they may not be interested in. Seeing as how the $40, cosmetic-free option is no longer available, it makes it harder to get friends to buy the game and join the fun when it was offered for $20 cheaper until recently.
On the other hand, longterm Rainbow Six: Siege players feel they're being cheated, as new players can get 10 additional Outbreak Packs, whereas those who've been with the game for some time are forced to spend money for more packs. Both sides have valid frustration on the issues, and it seems Ubisoft hasn't quite hit the middle ground to keep everyone happy. We'll have to see if the developer uses the coming weeks to make things right.
SOURCE Ubisoft