RadioShack wireless rates for no contract mobile plans leak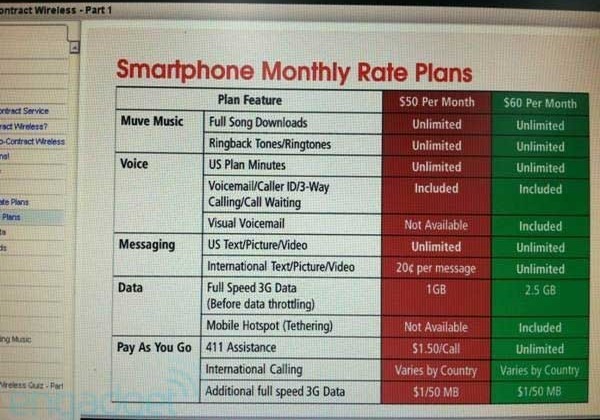 Grumblings have been heard online for a while now that RadioShack is getting ready to release its own no contract wireless mobile phone plans. According to the grumblings, RadioShack's service will be based on the Cricket Wireless rate plans. It sounds like RadioShack is simply rebranding Cricket Wireless plans for its own customers.
An image of an internal RadioShack computer system has surfaced online showing two rate plans, including monthly charges and features. There are only two tiers for smartphone users. The basic plan is $50 per month and includes unlimited Muve Music, voice minutes, text/picture/video messaging and 1 GB of 3G data.
After that 1 GB of data is hit, speeds will be throttled. A more expensive plan for $60 per month includes the same unlimited music, voice, and messaging minutes. It gives slightly more full speed 3G data before throttling with 2.5 GB available. The more expensive plan also includes mobile hotspot tethering and unlimited 411 assistance.
Both wireless plans offer additional full speed 3G data at $1 per 50 MB used. The key differentiator between these RadioShack plans and buying directly from Cricket Wireless comes in music consumption. RadioShack is offering free unlimited music in the normal rate plans while unlimited music is a $10 monthly option directly from Cricket. Feature phone users can get a plan with unlimited messaging and unlimited 1x mobile data with 300 anytime voice minutes for $25 monthly or 1000 anytime minutes for $35 monthly.
[via Engadget]