Radio Shack and Target to cut iPhone prices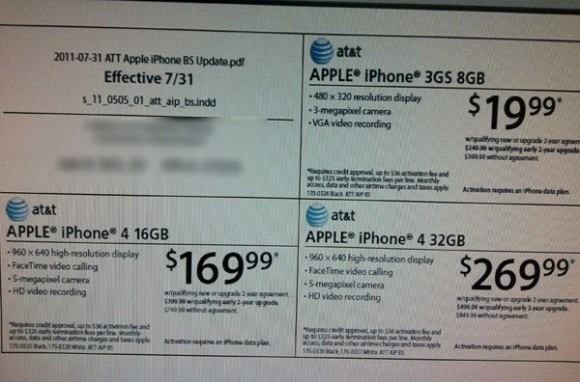 If you have been thinking about getting a new iPhone you might want to wait a bit and see how things shake out. There are some rumors and a leaked screen shot from Radio Shack that suggest that the iPhone is about to get a price cut. Apple often slashes the price of older gear as it gears up to release the new replacement for the devices.
All the rumors are pointing to a September launch for the iPhone 5 giving roughly a month before the launch is the rumor is accurate. The price of the current iPhone 4 being reduced would make sense in the face of the new device coming. The Radio Shack screen shows the 8GB 3GS for $19.99, the iPhone 4 16GB at $169.99, and the iPhone 4 32GB at $269.99.
Target is also rumored to be cutting the prices of the smartphones and the cuts are very similar. Sources put Target's iPhone 3GS at $19.99, the 16GB iPhone 4 at $149.99, and the 32GB iPhone 4 at $249.99. Obviously, the prices would be with a new contract. Another tip claims that you can trade in an iPhone 3GS you can get $100 off the iPhone 4 and than get another 5% off by paying with a Target credit card.