Radical Heights battle royale game sees LawBreakers dev fight Fortnite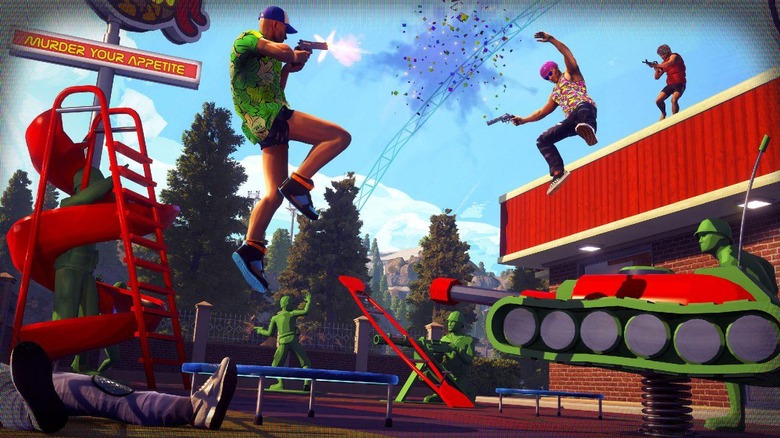 With the immense success of games like PlayerUnknown's Battlegrounds and Fortnite, it seems that everyone wants a slice of the battle royale pie. The latest studio to enter the arena and try its luck is LawBreakers developer Boss Key Productions, a studio founded by former Epic Games design director Cliff Bleszinski. Today, Boss Key revealed Radical Heights, a new free-to-play battle royale title that looks to provide a few interesting twists on the tried-and-true formula.
Like any other battle royale games, players will still be attempting to be the last man standing in a large-scale deathmatch. The core of the battle royale genre won't be changing in that regard, but just as Fortnite added building mechanics and weapon tiers to the foundation laid down by PUBG, Radical Heights will be providing its own unique spin.
In the description on the Steam Store page for Radical Heights, we're told that the game is set in a "sunny SoCal dome" and that players will be able to traverse the world on BMX bikes. As you explore the world and kill other players, you'll earn cash, which can be deposited for later use if you can make to it an ATM before you die. That cash can then be spent on "righteous customization in your personal prize room," or used in subsequent games to gain early access to weapons.
Like Fortnite, Radical Heights will be a free-to-play game that plenty of cosmetics for players to unlock. The game's listing also says players will participate in "dynamic game show moments," though what that means for the larger battle royale match has yet to be seen.
The good news is that none of us will have to wait very long to experience Radical Heights' particular quirks for ourselves. Boss Key is launching Radical Heights in early access tomorrow, and plans to leave it there for around a year as it works on preparing the game for launch.
It wasn't too long ago that LawBreakers publisher Nexon claimed the game was a flop, and just last week, the team at Boss Key said it was moving on to other projects. More than a few of us probably guessed that new project was a battle royale game, as Nexon called out PUBG specifically when it was listing the reasons why LawBreakers was a commercial failure. Whether or not Radical Heights will do enough to lure people away from PUBG and Fortnite is a big question, and one that we should have the answer to soon.