QUE proReader Delayed Until Summer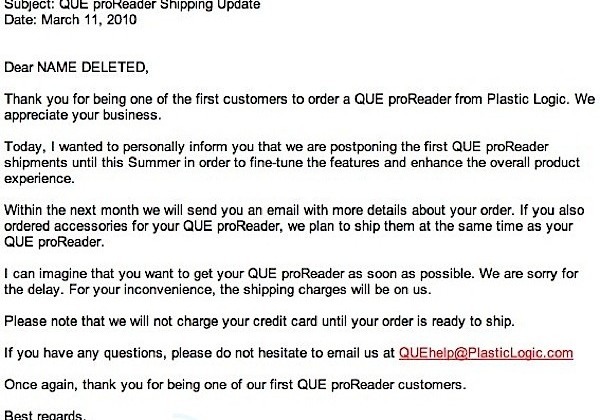 I am not typically one to pre-order products. I like to be able to just walk into a store, buy the thing, and take it home. One of the reasons I don't like pre-orders is that you never really know when you will get the device until it actually ships. Such is the case with the geeks who pre-ordered the expensive QUE proReader a while back.
At the time pre-orders started the reader was supposed to ship in the middle of April. One person who pre-ordered the device has sent an email received from the CEO of QUE over to Engadget. According to the email, the QUE is being delayed until sometime later in the summer.
The reason given in the email is that QUE wants more time to "fine tune features and enhance the overall product experience." When companies spout marketing speak like that, what I really hear is "the thing doesn't work right and we are fixing it." The upside if you have pre-ordered is that your credit card hasn't been charged yet and you can cancel and take your $650 to $800 depending on the version you ordered and get yourself an iPad or two.