Qualcomm's Ultra Sound NotePad, our hands-on in real-time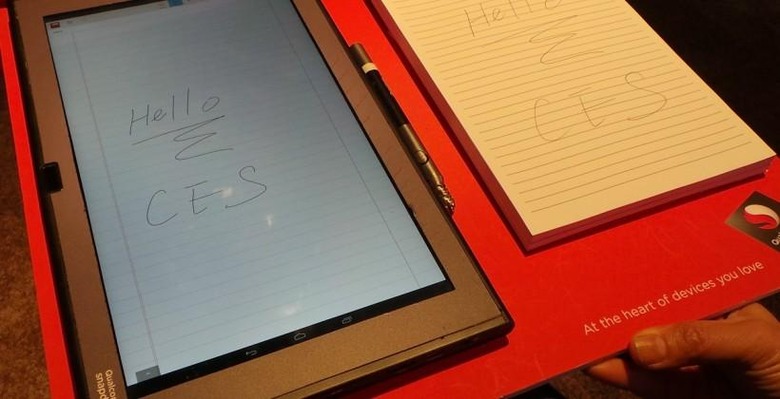 When Qualcomm announced their Ultra Sound NotePad last week, we were instantly interested. The ability to write something down and have it transfer to a digital copy is nothing new, but Qualcomm was promising it in real-time. No lag, and no extra hardware. They promised it would be a feature that the new Snapddragon 805 could handle. Skeptical of those claims, we went hands-on with the NotePad here at CES 2014.
The NotePad is Qualcomm's reference hardware for the technology, so it shouldn't be considered as something you'll be able to go out and snap up. They're using it to showcase the feature set they've packed into the Snapdragon 805, specifically the UltraSound capability. We've seen this before from the likes of eQuil, which we showed you last night. We liked eQuil, but it has its limitations. Would Qualcomm be able to outdo that technology?
According to Qualcomm, it uses the same "listening" technology, but the back-end stuff is wholly different. They're also packing it into the Snapdragon 805, so no fussy extra hardware is needed. They tell us this could work with other hardware, so long as the 805 is in place. Nothing special needed, according to Qualcomm.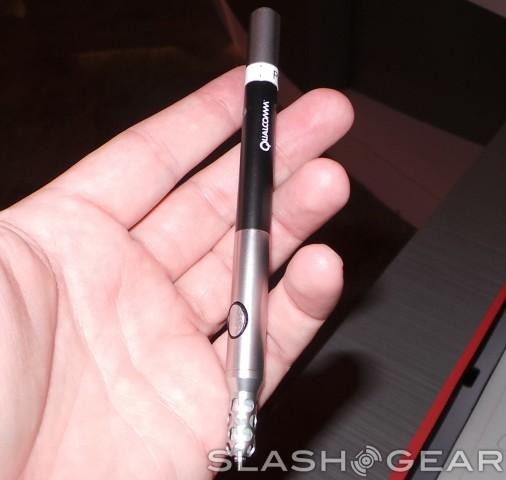 The pen was nice in-hand, and didn't feel overdone. It was a simple, clean pen that just happened to be able to copy text to your tablet. No big deal, right? Wrong. The NotePad is a big deal. More to the point, Qualcomm's tech in the 805 is a big deal. We wrote on a tablet, and it transferred to the NotePad in actual real-time. There was absolutely no lag involved. We even tried making very intricate patterns and drawings to break the NotePad's spirit. We failed.
With the 'listening' tech, the device needs to have a "line of sight" with the pen at all times, but it really doesn't matter where you place it in relation to your paper. Top,side, bottom, it's all fine. Qualcomm does caution that the NotePad will need to be next to the paper you're writing on, so you can't sit across a room and scribble. The orientation of the hardware matters, too; if your tablet sits askew, your writing will manifest crooked on the tablet. Keep it all even, and you're fine.
It's interesting tech, and something we hope catches on quickly. For the long lamented stylus market, something like this could breathe new life, and actually make us want a stylus. Qualcomm says they're nearly finished with the tech, and will start seeding it to OEMs soon.