Qualcomm Wants 5G Smartphones To Power Lightweight XR Headsets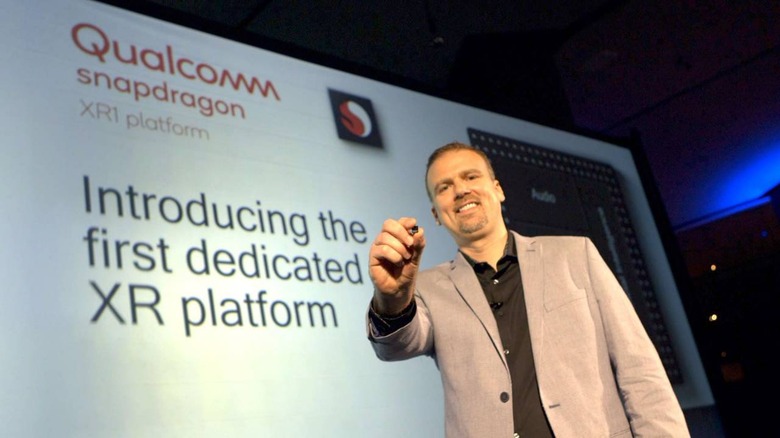 Qualcomm showed up to MWC this morning with some pretty big news, announcing that the Snapdragon 855 will be at the center of a new extended reality ecosystem. Qualcomm's XR ambitions have been out in the open for a while now, and while the company is working on its XR1 platform, it'll also be partnering with various OEMs to create lightweight XR headsets that are tethered to 5G, Snapdragon 855 smartphones. Officially dubbed XR Viewers, these new headsets could make things like AR and VR more accessible for a larger segment of consumers – assuming, of course, that they have a compatible smartphone.
The benefits of powering one of these XR Viewers with a smartphone should be obvious given the somewhat bulky VR headsets we've got now. Offloading the computing work to a smartphone means that XR viewers can be slimmer and more comfortable to wear. It also potentially means a cheaper headset for end-users, but at this early stage, Qualcomm hasn't really set any pricing expectations.
The list of required specifications for compatible phones is fairly short, but it certainly places these smartphones on the high end of the spectrum. Aside from the requirement of the Snapdragon 855, the phones that are used with an XR Viewer will need to support 5G and display out over USB-C. The headsets are tethered to phones via USB-C and can act as a high-resolution extension to the phone's display. One of the scenarios Qualcomm gave as an example was using an XR viewer to stream video over 5G on a crowded subway, leaving your phone in your pocket or your bag as you do.
Qualcomm said today that the Acer Viewer and the nReal Light will comprise the first wave of products. One interesting thing to note is that we first saw the nReal Light last month at CES 2019, but back then it was tethered to a Snapdragon 845 processing box. Beyond Acer and nReal, Pico will be releasing an XR Viewer of its own at some point this year, with Qualcomm saying that other OEMs will be releasing headsets within 2019.
Qualcomm is partnering with a lot of different companies to make this happen, name dropping smartphone OEMs like OnePlus, OPPO, HTC, BlackShark, Vivo, and Xiaomi; 5G operators including LG U+, Telstra, Sprint, SK Telecom, and KDDI Corporation; and finally, platform providers such as VIVE Wave, NetEase-AR, NextVR, and SenseTime. Qualcomm says that it will also be extending its HMD Accelerator Program to cover XR Viewers, making it easier for manufacturers to ensure compatibility between headsets and smartphones.
Considering that smartphones need to support both the Snapdragon 855 and 5G, it's going to be a little while before we see a wide variety of XR Viewer-compatible phones out there. Still, Qualcomm is looking to have XR Viewers running off smartphones by the end of 2019, and as coverage of 5G continues to spread across the country, we'll likely see more and more XR headsets launch. Stay tuned, because this sounds like a pretty massive undertaking from Qualcomm and its partners, and it'll be interesting to see how everything pans out.