Qualcomm LiQUID might be Windows 10 QHD Lumia 2520 successor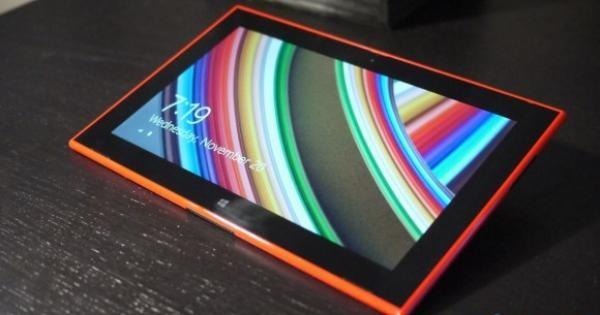 Microsoft may have practically sealed the fate of Windows RT with the demise of the Surface (not Pro) tablets, but it seems it has something quite interesting in the works. Rumors of a 2K display, Snapdragon 805 device for Windows Phone have been going around but, considering recent announcements and rebranding, that seems to be taking a slightly different turn. Indeed, a GFXBench listing now shows an ARM tablet bearing those features and running a "WINDOWS" operating system, hinting this could very well be the successor to 2013's Lumia 2520.
Back then, the Lumia 2520, still under the Nokia brand, was a rather odd duck. It was, in a way, inevitable as the company's first full-fledged tablet. But instead of Windows Phone, it ran Windows RT, the only non-phone Windows variant for ARM devices. Fast forward to today, Windows RT is dead, but Windows on ARM devices have yet to see a writing on the wall. This Qualcomm LiQUID might very well stay death's hand for a while.
Windows runs on tablets, no doubt about that, but each and every one of those are powered by Intel, or sometimes even AMD, chips. If the speculation does come to pass, this will most likely be the first ARM-powered Windows 10 tablet that the market will see. That is, if rather enterprising Chinese device makers don't beat Microsoft to the punch.
The LiQUID's specs are nothing to be ashamed of. Though the same size as the 10.1-inch Lumia 2520, it has a higher 2560x1440 2K resolution. It runs on a Snapdragon 805, not the rather controversial and hot, perhaps literally, Snapdragon 810. It is said to support DirectX 11, which is novel for an Adreno GPU. Storage is about 64 GB, though no word on memory.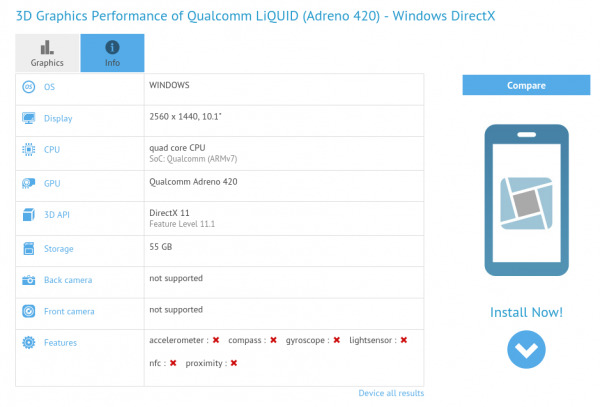 Perhaps the bigger puzzle is the direction that Microsoft will take this device. It has promised that Windows 10 tablets 8 inches and larger, which would include this Qualcomm LiQUID, will get the full Continuum experience. But regular Windows desktop apps are unlikely to run on ARM chips as is. It will be interesting to see how Microsoft will be able to spin this to keep people from reliving the horrors of Windows RT while still extolling the virtues of Windows 10.
SOURCE: GFXBench
VIA: Nokia Power User