Q-pot SH-04D looks like a bar of chocolate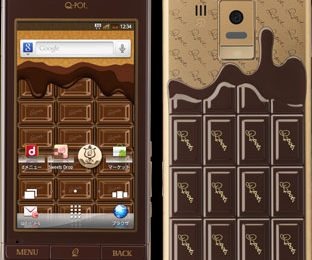 This is one of the weirdest phones I have seen in a very long time. Sharp has unveiled this smartphone in Japan where geeks are known to like some odd stuff. The phone is called the Q-pot SH-04D and it is designed to look like a bar of chocolate. If you love Android and candy, this might be a device for you to hunger for.
The phone runs Android 2.3 as the operating system and the big draw here is the odd looks. Even the home screen has a background that looks like little squares of chocolate. The smartphone measures 60mm x 119mm x 12.3mm and weighs about 127g with the battery inside. The device also has 310 minutes of talk time and will last about 400 hours on standby.
The LCD is a 3.7-inch unit with a resolution of 540 x 960. The rear camera is an 8MP unit, storage is 2GB and the machine has 512MB of RAM. The rear camera can capture video and the phone has a Color Veil View that tries to prevent people for reading over your shoulder. The phone is also IPX5/7 certified for water resistance. Pricing and availability are unknown.