Pyle Unveils Bright Red Retro Turntable That Looks Like The 50s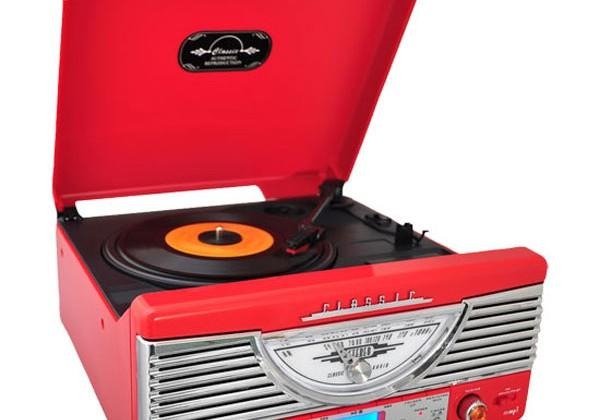 If you're a fan of vinyl records and you're in the market for a new turntable, Pyle Audio as a new turntable that might catch your eye. It has retro style that looks like it came out of a 50s diner for the most part. Obviously, they didn't have LCD screens and memory cards in the 50s as this turntable offers.
This device is more than a turntable for your old-school vinyl album collection. The model PTR8UR turntable also features an AM/FM radio, RCA outputs, and integrated three-inch speakers. It also offers an X-Bass control system, an SD card slot, USB port, and ships with a 45-RPM record adapter.
The front dials are illuminated for use in the dark and the LCD display has a blue backlight. One of the coolest features is that this turntable is able to turn your vinyl records into digital tracks so you can add them to your iPod or other MP3 player. The record player also has another feature that wasn't around in the 50s, a wireless remote control.
Other connectivity features include a 3.5 mm auxiliary input and a 3.5 mm headphone jack. The record player itself supports three speeds including 33 1/3, 45, and 78 RPM records. The player measures 15.98 x 13.62 x 8.66" and is available now for $114.99.
[via Pyle Audio]