Pyle PBTR70 turns your iPod dock into a Bluetooth speaker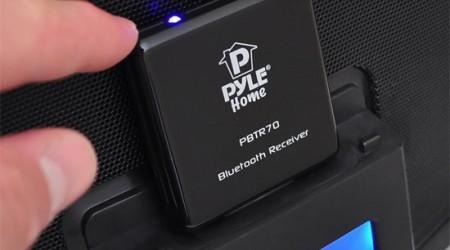 If you've been using the iPhone for a long time and upgraded to the iPhone 5 when it launched, I'd wager you have a number of accessories, such as speaker docks, in your house or office that you can no longer use. That's because the iPhone 5 went to a new docking adapter that is incompatible with previous generation chargers and accessories without using an Apple adapter. That adapter isn't exactly an attractive solution and may not work with some speaker docks.
Pyle is an audio brand that has been around for a long time and the company has announced a new Bluetooth receiver specifically designed to connect to iPod docks and turn them into wireless speakers. The Bluetooth receiver is called the Pyle Home PBTR70. One of the more interesting things about this Bluetooth receiver is that it makes your previously Apple only speaker docks universal.
It uses Bluetooth technology supporting anything including your iPhone, BlackBerry devices, Android devices, and more. It also has a 3.5 mm audio input for devices that lack Bluetooth connectivity. The wireless adapter promises a range of 33 feet and should give you plenty of distance for streaming your music all around the room or office.
The adapter measures 2.15 a 2.15 x 0.45-inches. The PBTR70 is available to order right now for $66.99. This is an interesting and decently priced product to help you get more use out of your obsolete speaker docks.
[via Pyle Audio]