Purported new iPhone 6 cases offer dimensions for both sizes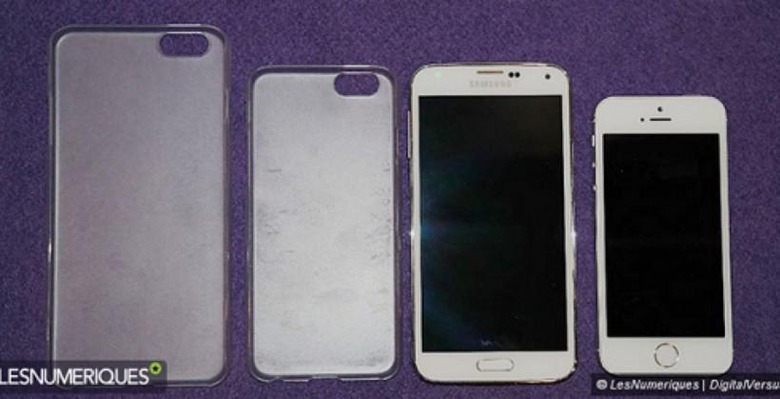 Two cases, which purport to be for two new iPhones, have "leaked". According to the source, these are cases for both a 4.7-inch and 5.5-inch iPhone. For effect, they're shown next to an iPhone 5S and Galaxy S5, giving a good idea of the dimensional aspects a new iPhone might have compared to a few other flagships.
A bit slimmer than a Galaxy S5, the 4.7-inch iPhone will also be a touch shorter, if these cases accurately portray the new device. A 5.5-inch iPhone seems to scale appropriately to the "smaller" 4.7-inch variety, which is where we start to find fault, here.
Looking at the two cases, they're eerily similar, which means Apple is offering up nothing more than two sizes of the same device. While that's not far-fetched, it's an odd choice to offer nothing additional on a 5.5-inch device, which is a radical departure from the traditional iPhone variants. We're also taking issue with the camera cutouts. Why would a larger phone need a larger camera cutout? They're likely to use the same hardware.
The 4.7-inch iPhone could be announced as early as July, and released in August or September. A larger iPhone is believed to come later, and may even be having some manufacturing issues related to the display. We'll be watching Apple's WWDC in June to see if there is any talk of one or more new iPhones coming.
Via: Phone Arena