PlayerUnknown's Battlegrounds is a phenomenon in the world of PC gaming. The game has only been available since March, but in those four months, it has managed to sell over six million copies. An impressive enough feat for an early access title, but now PlayerUnknown's Battlegrounds is onto breaking long-held Steam records.
Over the weekend, PUBG creator Brendan Greene tweeted out an image that showed PlayerUnknown's Battlegrounds claiming the number three spot on Valve's peak concurrent players list. That, officially, gives PlayerUnknown's Battlegrounds the highest peak player count of any non-Valve game, beating out Fallout 4 for that title, which it claimed back in November 2015.
While ranking third on the all-time peak player list may not seem like such a great accomplishment on the surface, it's actually a huge achievement for any game that isn't DOTA 2 or Counter-Strike: Global Offensive. Those two games hold the top two spots on the list, and no other game is likely to top them anytime soon.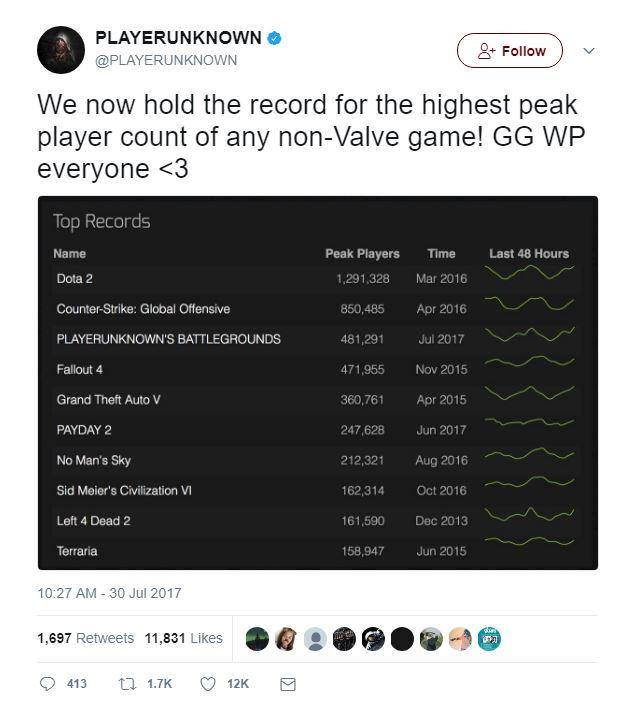 There are a few reasons for this. For starters, both games are made by Valve, and Steam is Valve's platform, leading to a degree of promotion that other games may miss out on. Furthermore, they're both inexpensive titles – DOTA 2 is free and CS:GO is a mere $15 – and have thriving eSports and streaming scenes around them. In short, they're both insanely popular games, as most games made by Valve tend to be.
So, the idea that PUBG has become so popular that it can now boast the highest peak player numbers of any non-Valve game is definitely worthy of praise. With those numbers topping out at 481,291 (for now), it's clear that PlayerUnknown's Battlegrounds is on a meteoric rise – the only question now is how long this rise will last. Do you think PlayerUnknown's Battlegrounds has what it takes to remain one of the most popular games on Steam, or is it just a flash in the pan? Head down to the comments section and share your thoughts!