Prosthetic bionic arm has integrated charger, light, and drone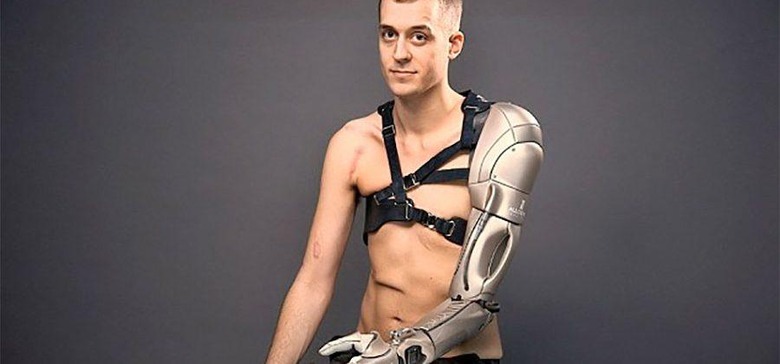 About four years ago, a man called James had a freak accident while trying to board a train that resulted in him falling under the train, severing his left leg, and severely damaging his left arm among other grievous injuries. The left arm was eventually amputated. The man recovered and was given an incredible prosthetic arm that has all sort of integrated functions in an experiment that seems right out of a science fiction movie.
Originally, James was sent home with what he called "peach-colored and obvious" prosthetic arm and leg with limited capabilities and a hook instead of a hand. Eventually James became part of an experiment where he was fitted with a prototype bionic arm. James came about the bionic arm when he found an advertisement from Konami, the same company who makes video games, looking for an amputee who was interested in testing a prosthetic limb.
The limb in question is connected to the nerves and muscles in the shoulder and the bionic arm was fitted at the studio of a prosthetics artist called Sophie De Oliveria Brata, creator of something called the Alternative Limb Project. James' prosthetic is a metal arm with attached articulated plastic hand that is worked by muscles in the shoulder. Muscle signals are detected by sensors attached to the skin of his shoulders that are connected to a harness on the top of the body that operates the arm and hand. A battery powers the works.
The arm and hand themselves were made by a company called Open Bionics. The hand has the dexterity to pick up even tiny objects like coins. The arm has a laser light, a flashlight, and a USB port in the wrist to change his phone. The arm also has its own watch and a drone fitted on a panel on the outside of the shoulder. The arm was inspired by Snake, the character from Metal Gear Solid. The arm weighs ten pounds with the harness and battery and the company who builds the arm hopes to eventually get approvals needed to fit the arm to other amputees.
SOURCE: Dailymail