Project Fi wants you to refer new subscribers for a cause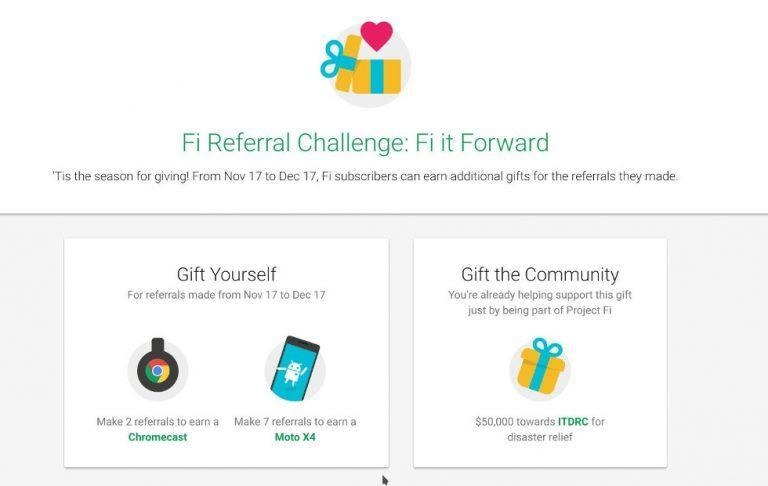 Technology, especially information technology, has become part and parcel of modern life that it has also become one of the essential services that need to be restored in times of disasters and crises. Google and parent company Alphabet have made efforts to leverage its resources and clout towards improving the deployment of IT services in such instances, like Project Loon's recent operation in Puerto Rico. To increase both awareness as well as funds for such goals, Google launched a new "Fi it Forward" referral program, with a small donation attached, so that everyone wins in the end.
Two years after it launched, Project Fi rollout across the country has seemingly slowed down a bit after the initial hype. For better or for worse, carriers have changed features and business models in order to retain their foothold in the market. Not everyone will be too eager to make a switch to a lesser MVNO, even one with Google's name attached.
That is why Google is relying on its existing customers to help do the convincing for them. The referral program, first launched December last year, offered incentives to get existing subscribers to pull in even more. Just in time for the season of giving, the latest referral challenge will give gifts to both subscribers and charity.
When you make two referrals, you are eligible to get a free Google Chromecast. Make that 7 new Project Fi subscribers under your lead, and you get a Moto X4 as well. The Android One version, of course. What's different this time is that, at the end of the campaign, Project Fi will donate a flat sum of $50,000 to the Information Technology Disaster Resource Center, a non-profit made up of volunteers who harness ICT to connect survivors, responders, and communities in times of disasters.
The "Fi it Forward" challenge runs until December 17 and Google is unsurprisingly turning it into a game, complete with leaderboards. Of course, you could also directly donate to the ITDRC without having to go through Google or Project Fi.
SOURCE: Google