Pro Cyc MyStudio 20 - Tabletop Photo Studio review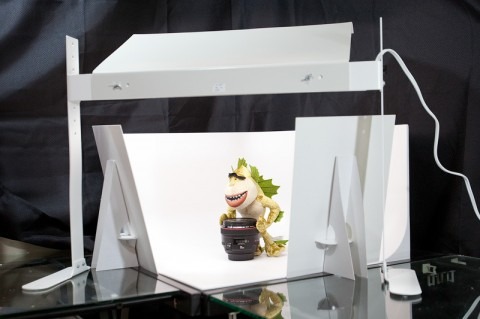 We may receive a commission on purchases made from links.
So what does an avian photographer knows about product photography? Not much, but a good image is all in the lighting and background. With the right equipment, product photography is in fact very simple, and twice as straightforward in a consistent lighting photo studio. A professional light tent with balanced lighting and seamless background can be costly, up to thousand of dollars, and is out of reach for small profit auction retailers or ecommerce that regularly add product images to their online catalogs. What we have for review today is an affordable product with an infinity virtual backdrop that the manufacturers claim can be used by anyone, regardless of experience, to get high quality product shots –- the Pro Cyc MyStudio20 Tabletop Photo Studio. (setup video after the cut)
Who are Pro Cyc and what do they do? We first met the Oregon-based company at the PMA Sneak Peek press event. They manufacture modular backdrops, large-scale green or blue screen virtual sets for many of the major networks such as CNN, NBC and ESPN. MyStudio 20 is a miniature tabletop cyclorama, corners are rounded to eliminate unwanted corner lines — typical background problems encountered in product photography — thus an infinite background can be achieved even with wide-angle perspectives or small aperture settings.
Unlike most studio tents with multiple high-power light sources and translucent fabric to diffuse light, MyStudio 20 employs a single fluorescent light. The seamless base is made of a lightweight but durable matte-white ABS material with a washable surface; it makes for a versatile and cost effective photo studio to catalog photos of small items, from toys, camera equipment, jewelry and timepieces to food. Forget making money off online auctions; with interesting subjects, MyStudio 20 can help you start a career in "iStock".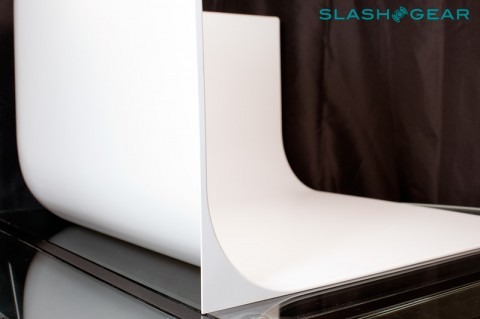 The design is simple and energy-efficient; the 15-watt fluorescent light is capable of 590-lumen output, and lights the whole setup though a plastic diffuser to reduce hotspots and harsh shadows. Light is bounced though an overhead reflector and hard-paper bounce cards to provide soft and even lighting on subjects.
Setup
Setup is straightforward. Parts and pieces are supplied but you'll need a Philips and a flathead screwdriver to mount the light fixture on the aluminum cross-bar, then attach the bar to the legs. Pro Cyc include an illustrated assembly guide and we ran into no issues at all in setting it up. The holes for the screws are tight-fittig, though, so we would recommend loosening them first by screwing just the screw in alone before mounting. (see setup video below)
[vms c7093bd2504188127765]
Test and detail
Ten screws and 7 minutes later, the MyStudio 20 was ready to go with a flip of the integrated switch on the light-fixture. Careful observation turned up a small hotspot patch right in the center of the cove, but Pro Cyc told us that it could be easily reduced using Soft Scrub. The abrasive cleaning product can be purchased at any grocery store for $2-$3 and is highly recommended, not only to remove surface sheen but also for generally cleaning the cyc background, maintaining the white color for the perfect "Kodak moment".
Unlike in a softbox, the set is linearly diffused with a single 15-watt fluorescent lamp on top, so any subject with reflective surfaces has to be careful angled to avoid hotspots showing from the top. The light stand is not designed to be easily adjustable; it's possible, but to do so you'll need to remove the thumbscrews and Phillips-head screws to fiddle with the height. The low power lamp demands that shots are taken with longer shutter speeds and a tripod, preferably with mirror lock-up and shutter delay if your equipment supports it. To be fair, this kind of semi-precise camera support is a must for a dedicated product shot, regardless of kind of studio tent you're using.
We first followed the suggested "daylight" setting (5,000k) from the guidelines, but images appeared slightly warmer than we'd have liked. Evidently, the slightly off-white top reflector cast a few degrees warmer overall tone to the lighting – an purposeful choice, according to Pro Cyc's research, since people apparently responded better to photographs of products with warmer tones.
Next, we tried shots with the camera's auto white balance (AWB) and then a custom white balance using ExpoDisk; the outcome from both settings were fairly close, color temperature fell to around 4600-4700 but with far more accurate neutral tones than in the daylight settings. We discussed our findings with Pro Cyc, and they concurred that better results were reported with the camera's AWB running the show, and that they'll be updating their "Helpful Camera Hints" accordingly.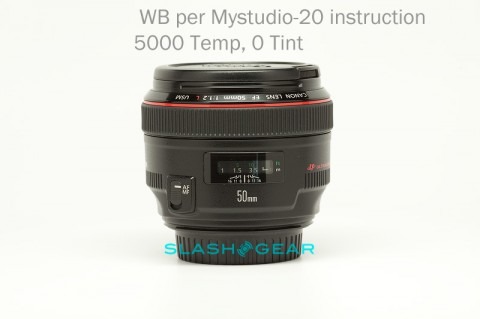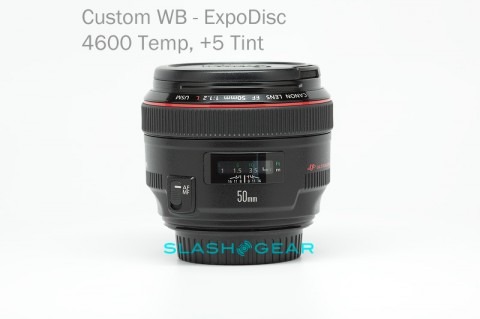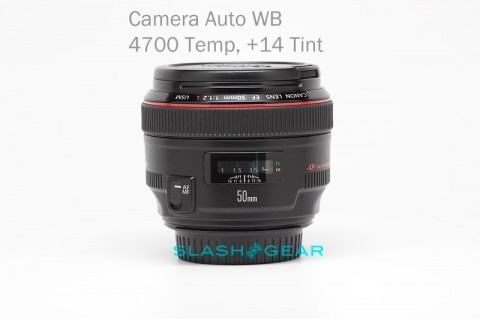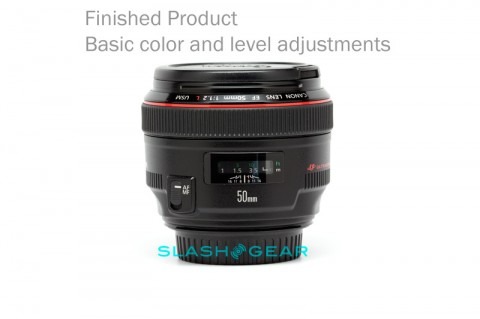 The MyStudio 20 is designed for basic operation – turn the switch, pop in your product and you're ready to take a picture for eBay listing with little or no Photoshop work. Experienced users can do more if they wish. The samples we're showing here are not straight out from the camera, but close, with white balance corrected and only minor adjustments with basic level and contrast to fully whiten out the background. To reproduce such shots yourself on non-reflective and darker-tone objects, simply over-exposuring then bringing the mid-levels back in post-processing, you'll find you don't need the extra selective work to separate out the background.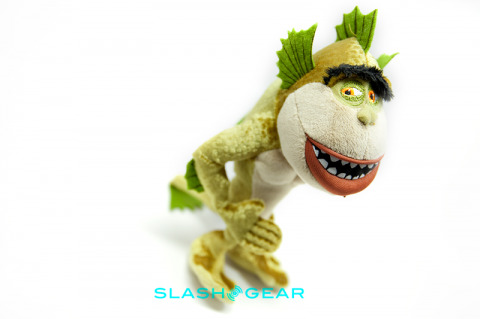 Conclusion
Back in my college days, I used to scoop up Abu Garcia and Shimano fishing reels from eBay; most of them were terribly advertised with wacky images, badly set-up flash or, equally off-putting, with no images at all. After a thorough service and greasing, they were back in auction with a better description and images, and usually sold more than twice what I paid for them. A picture speaks a thousand words, but a better one improves your profit by significant margin; that's the truth about online shopping.
The MyStudio 20 Tabletop Photo Studio by Pro Cyc is not sized sufficiently for large products such as desktop PCs, TV sets or fishing poles, but would be a great companion to cataloging smaller items without demanding a professional photographer, oversized softbox and extensive setup. Retailing at $250, it's not the cheapest product photo studio out there, but I'm sold on the unique cyclorama background and energy-efficient lighting system. It works and it doesn't dent your power bill in the long term.
Even better, if you shop around, Amazon is selling it at under two Benji's and, for $160 more, you can get the larger MyStudio model, the MyStudio 32, which features a larger cyc and two of the lights set side by side. Based on our experience with the MyStudio 20, we'd have no issues recommending that model for larger items.