Princeton Jive Box Ipod Dock Cranks 90 Watts With Digital Amp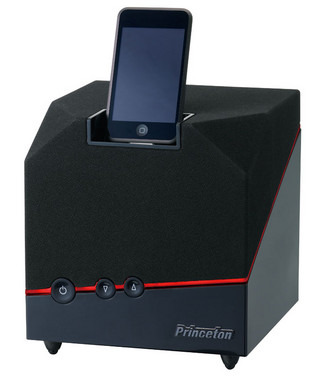 Princeton presents the Jive Box 2.1 channels boom box with an integrated dock for your Ipod. The manufacturer wants to remind you not to be scared of the 90 watts high power Ipod companion; unlike traditional amplifier, the 3 ways designed speaker system play loud tunes with energy efficient digital amp and will not run up your power bills.
The Jive box houses a 4.9-inch down-firing subwoofer beneath its 7x7x7.6- inch cabinet. An Ipod dock cradle, also functions as your Ipod charger, sits on top on an AM/FM radio console and it's compatible with 4 generation Ipod, Touch, Mini, Nano and Classic. Three choices of LED light – Red, Blu and Green is selectable to lit up a cross line surrounding the unit.
Below the cradle is a small LCD screen to display playback information from the built-in radio, music source to clock. A wireless remote control comes standard. Multimedia connectivity includes video outputs to external display, a headphone output, USB ports and an auxiliary input for external mp3 player. The Princeton Jive Box will set you back 14,800 yen ($156) and is slated to release from mid December .