Prey for the Gods looks like Shadow of the Colossus, for PC and Mac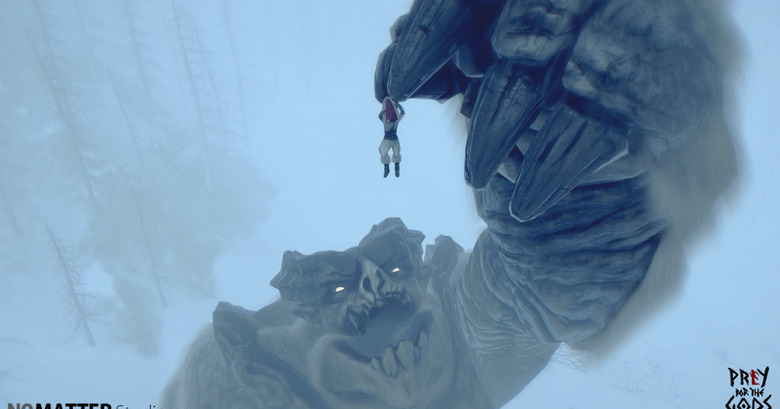 When Shadow of the Colossus debuted in 2005, it turned a lot of heads. The game's minimalist landscapes and immersive gameplay have been identified by many who argue that video games are truly a form of art. Plus, who doesn't love scaling gigantic beings and bringing them to their knees? Well, the guys at No Matter Studios have taken some obvious cues from Team Ico, and released a trailer for their upcoming game, Prey for the Gods.
Not much is currently known about the game, aside from the recently launched trailer, which you can check out below. We see an unknown protagonist roaming a vast winterland, and eventually meeting, scaling, (and presumably killing) a rocky giant. Once you've had a peek at the trailer, you'll understand why I've compared it to Sony's 2005 hit. Even the developers make a nod in their description of the "colossal dangers" you'll encounter.
What's amazing is that No Matter Studios was formed in September of last year, and only has three developers "working in the evening hours." The video shows a lot of promise for three guys that are just working on it in their spare time.
One interesting tidbit that they have mentioned is that Prey for the Gods is currently only being developed for the PC and Mac. With a studio consisting of only three people, I can certainly see the appeal of focusing on PC, rather than expanding to consoles. There is currently no release date, but with such a small team, that's understandable at this point.
Source: No Matter Studios