PowerVision PowerEgg X is a personal AI camera that can fly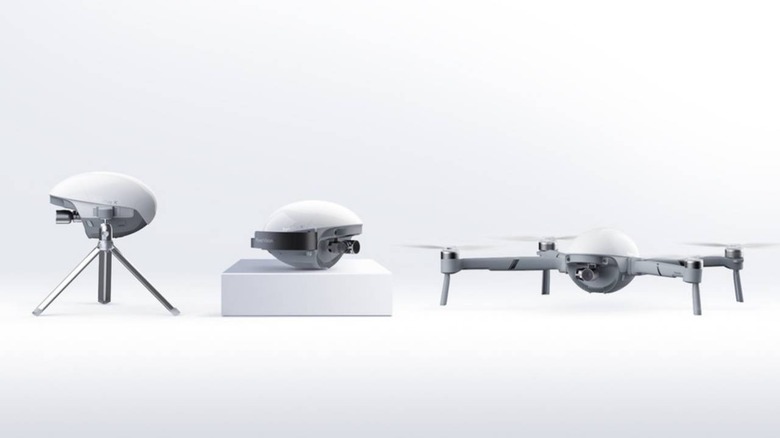 PowerVision has introduced PowerEgg X, a product that it describes as an AI-powered personal camera that can fly. This drone is designed around its camera capabilities — this is a product you'd use to capture a stunning shot of your favorite activities, though it could also be used for other situations in which a camera drone would prove useful, including land surveying. At the heart of the device is its 4K/60fps camera.
The PowerEgg X drone features autonomous capabilities. According to PowerVision, its model can operate in winds at speeds up to 38 knots, plus the model can be used with an optional waterproof case and landing float accessories for certain shooting environments, including bodies of water. PowerVision claims its drone operates well even in heavy rains, making it useful for sea rescue operations.
Also unique to the PowerEgg X is its support for SyncVoice tech, which enables the operator to narrate a video being captured by the drone in real-time using either a Bluetooth earpiece or their smartphone's microphone. This narrative is automatically synced with the content; this can be used for up to 30 minutes when the device is in drone mode.
Other features include precision landing and automatic obstacle avoidance, as well as other unspecified 'practical functions.' The built-in camera, meanwhile, is stabilized with a three-axis mechanical stability gimbal alongside optical image stabilization. The PowerEgg X can be used in a handheld gimbal camera mode for up to 3.5 hours of content capturing.
The combined features make PowerEgg X a surprisingly capable arrival in the consumer drone market, one offering some unique capabilities not offered by competing models. As expected, the drone comes with a fairly substantial price tag at $899 USD, though it still manages to undercut a number of high-end competing models. The PowerEgg X will be available to purchase through several retailers like Best Buy starting on January 7.