PowerUp FPV: Paper plane, camera, Parrot. 'Nuff said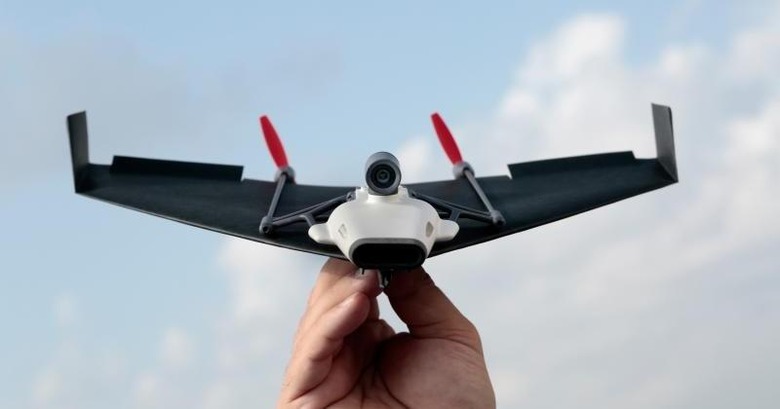 Remember the days when paper planes where innocent, impromptu sources of joy and sometimes mayhem, that could carry either a love note or a ticket to detention? Well, those days are long over as today's paper planes can be armed to the teeth. Not exactly with weapons (though sometimes that too) but with cameras that can sometimes do as much damage. Taking their craft beyond version 3.0 two years ago, PowerUp FPV promises a more professional looking paper plane drone equipped with a camera for your VR pleasure.
To be honest, however, the PowerUp FPV is a paper plane only in the most basic sense. The body that gives it form and aerodynamics is indeed made of paper, but this isn't your grandfather's paper plane. the PowerUp FPV houses a front electronics module with a VGA camera, two rear propellers, and a carbon fiber frame. You may launch it the traditional way you launch a paper plane, but once in the air, the similarities stop there. After all, have you ever heard of a paper plane controlled by a VR headset?
The PowerUp FPV is both like and unlike other camera drones. The camera, for example, is designed with 360-degrees freedom of movement, so that it can face not just forward but anywhere as well. At the same time, however, the video feed is more optimized for a virtual reality experience, preferably with another paper-based contraption like Google Cardboard.
To pull of this feat, PowerUp teamed up with drone makers Parrot, whose expertise with materials and cameras will prove to be invaluable. In fact, you could almost say that PowerUp FPV is basically a drone in paper plane's clothing. Whether that will actually end up as a more affordable alternative to a full-blown personal drone is something we'll have to wait and see. It might, however, be more fun for its novelty.
The PowerUp FPV is scheduled to hit Kickstarter in 25 days. Estimated retail price once the paper plane drone becomes available might be around the $200 ballpark.
SOURCE: PowerUp FPV