PowerSkin shows off next generation battery cases at CES 2013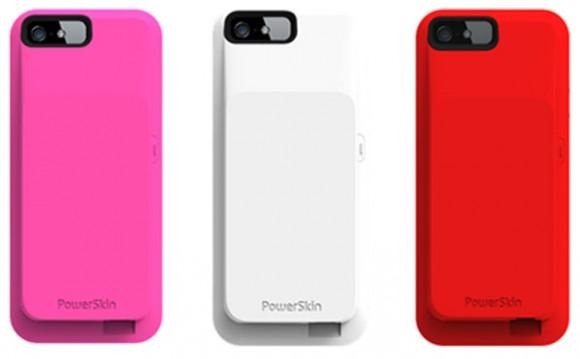 It doesn't matter what type of smartphone you prefer, one thing all smartphone users can agree on is that sometimes you just need more power. No matter if you're using an iPhone or an Android device, at some point your phone is going to go dead just when you need it. To address this problem there are plenty of cases for smartphones on the market that have batteries built-in to extend runtime.
Some of the more popular battery cases are in the PowerSkin line. The company is showing off some of its new offerings at CES 2013 including a new Pro Series double injected hard plastic/TPU coated iPhone 5 battery case available in a variety of colors. The series of cases is called the PowerSkin Pro and comes in white, black, titanium, red, and pink.
Inside the case is a 2000 mAh battery and the case has LED indicator lights to show at a glance how much power is left in its internal battery. Another new battery device is called the Hybrid Battery Charger. This device uses small suction cups to adhere to the outside of the mobile device and has a soft flex tip to fit various devices including Apple smartphones. This battery is 2000 mAh power inside and will be offered in black, white, titanium, red, and pink.
Another new product offering is the PowerSkin Battery Case for iPhone 5. The manufacturer claims this is its slimmest design ever making it fit comfortably in the palm of hand when installed. The thin case promises to extend the talk time of the iPhone 5 up to six hours and extend Wi-Fi usage up to an additional eight hours. The case has 1500 mAh the power inside and has an on-off switch to save the battery power for when it's needed. This case is also available for the Samsung Galaxy S III.