PowerColor dual Barts/HD6870 video card surfaces and it looks awesome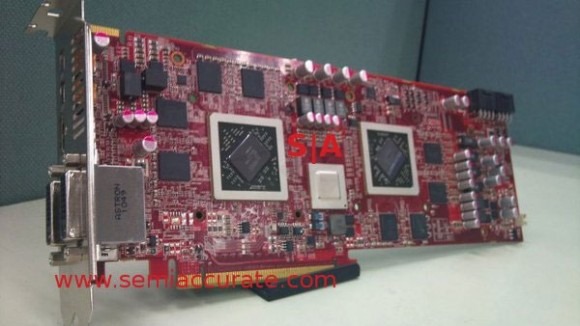 I really like it when video card makers take what would normally be a decent video card with a single GPU and make it much more than that by adding a second of the same GPU to the mix. Dual GPU video cards are nothing new and have been around for a long time, we just don't see them as often as the single GPU offerings. The only downside to a dual GPU video cards is that they tend to run hotter and take up more space and power than your average single GPU card.
The new card that has surfaced from PowerColor has a pair of the ATI 68xx/Barts GPUs shoehorned into a single video card. That should be plenty of oomph to give the dual GPU NVIDIA GF114 video card a serious run for its money. The use of a pair of the 6870 GPUs should make this one of the more affordable dual GPU cards we have seen recently. Two of the older GPUs should not be a match for a single 6990 video card; we will wait to see some benchmarks to verify that though.
The card has no official name at this point and will have 1GB of GDDR5 RAM on the card. The full details on the new card are expected to come at Computex. What we can see on the card is a pair of 8-pin PCIe power connectors so you can bet it has the power needed for overclocking too. The success of this card will depend greatly on the price, if PowerColor can keep it affordable this will be a winner with gamers and enthusiasts.
[via Semiaccurate]