Power A unveils iPhone Universal Remote Case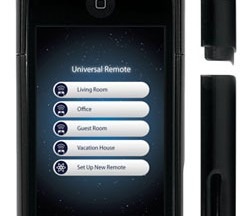 There are always new accessories and apps coming to market for the iPhone and iPod touch. Over the last few months there have been several new iPhone accessories turn up that are designed to turn the iPhone into a remote control for your TV and other home theater gear.
Power A has unveiled its new iPhone Universal Remote Case that works in conjunction with a free software app to turn the iPhone or iPod touch into a universal remote that can control any IR device. The IR transmitter is built into a shiny black case that fits around the iPhone and looks a lot like the Juice Pack Air to me.
The case has the IR blaster and the software app allows the iPhone to control all functions and devices in your home theater from one screen. This case is cool because it looks much cleaner than some of the other devices that are dongles and look added on and fragile plus it will protect your iPhone. The app will also get enhancements and updates as time goes by according to the maker. The case will be available soon for right under $60.